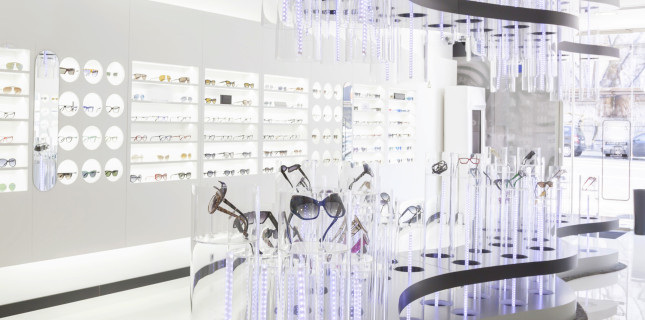 6 Fresh Tips for Frame Merchandising
Need a visual boost in your optical dispensary? Read on for 6 new and unique, sales-enhancing ideas for successfully displaying your frame assortment.
Tip: Be sure to create signage to label the trend, theme, or product category you're highlighting in your frame product displays.
1. Change Displays Monthly.
Keep the look of your optical dispensary fresh and up to date by creating new displays monthly—and tearing down the old displays. Featuring new merchandise, innovative ideas, and the latest looks will definitely up your sales and your shop's cool factor.
2. Define One Theme.
Keep things visually simple for your patients and customers by choosing one strong theme for the displays of the month. Head-turning theme concepts could include the season's trending colors (pick 3-4 colors and create a display highlighting one of each hue) or a particular product focus, such as sunglasses, reading glasses, or sports eyewear.
3. Start at the Front.
Turn customers heads right from the time when they walk in your front door by displaying your most eye-catching and coveted frame products the closest to the front of the dispensary—or even in your office's waiting area.
4. Make it Noticeable.
Proper lighting can be the key to display success, so be sure your displays are located in well-lit areas. If possible, adjust overhead or nearby lighting to point directly at displays to make them pop visually.
5. Label It.
Be sure to tell customers which trend or function your displays highlight by creating a simple sign with just a few words to drive the idea home. In addition, make sure that every product on display has a subtle price tag placed somewhere visible but not distracting. Patients will want to know what each product costs.
6. Swap it Out.
If you've got the time and resources, switch out your closest-to-the-front-door display as you get in new, must-have products the dispensary once during the month. Move the original display further back in the shop and highlight your latest and greatest in the very front and center display area.