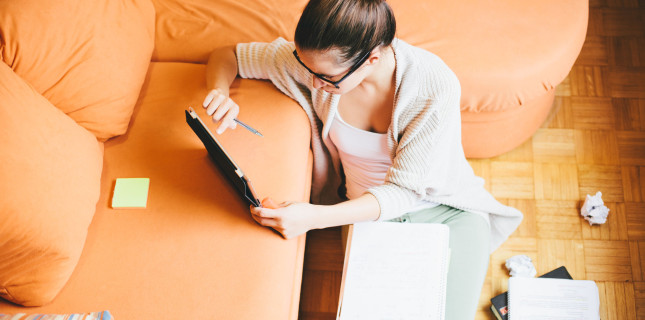 Sales Strategies: 3 Easy Ways to Boost AR Business
Are you realizing the full potential of anti-reflective coatings in your eyecare business?
This glare-reducing lens treatment can be both a huge benefit to your patients and also to your business' bottom line. According to the Eyecare Business 2014 Market Trends study, eyecare professionals say that a full 63% of the lenses they sell are with AR coating.
Tip: Got patients who may have been put off by AR's cleanability issues years ago? Be sure to educate them about today's ultra-cleanable, high-tech anti-reflective coatings.
63% Eyecare professionals say that a full 63% of the lenses they sell are with AR coating.
How much AR does your practice sell? Bump up this business with these three sales strategies for purchasing and presenting anti-reflective coating.
Stock High-Tech AR Products
Offer only anti-reflective lens coatings that demonstrate cutting-edge technology that's tangible to patients. The AR products you stock need to perform well in day-to-day situations—from the office to home and the commute in between.
Your high-tech AR products will pay off and earn you enhanced patient recall and solid word-of-mouth recommendations.
Need an idea for a high-quality, high-tech AR coating? Check out Shamir's new Glacier PLUS™ UV AR Coating here.
Explain AR's Key Benefits
While 94% of ECPs say they recommend AR coating to patients, many may not explain this unique product's full lineup of benefits. Discuss the following anti-reflective coating features with your patients in a quick and informative way:
AR minimizes surface reflections that cloud vision.
AR benefits certain Rxs—higher minus lenses and higher plus lenses—even more because these prescription lenses have more visible reflections.
AR improves vision and reduces fatigue for office workers who battle indoor glare resulting from overhead lights, computer screen reflections, and windows.
AR also greatly benefits aging patients who may have cataracts or age-related macular degeneration—the additional light allowed in by lenses coated with AR provides better, more comfortable vision.
AR delivers better wearer cosmetics by eliminating distracting glare bouncing off lens fronts.
New, high-tech AR coatings that match lens substrates—such as Glacier PLUS—reduce the occurrence of the "rainbows" (aka Newton Rings) that can occur when the lens material is not properly matched with the AR coating applied.
Update Patient Thinking
Patients who may have tried AR coatings years ago but were put off by cleanability issues may need some extra education about today's ultra-cleanable AR. In fact, Glacier PLUS features a unique Slippery Plus hydrophobic and oleophobic top layer to ensure the best cleanability.
Does your business have a unique way to present AR coatings to patients?
Join the conversation on this business-building topic on our Facebook page here.