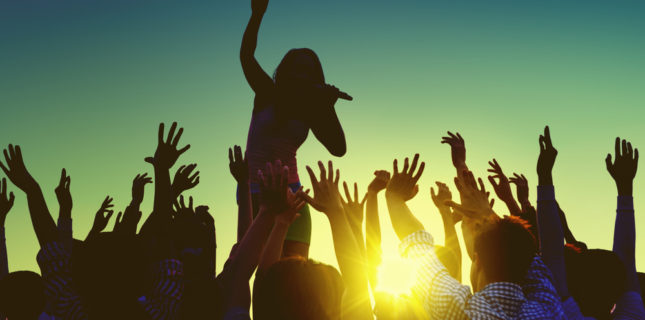 Ways to reach out to your community
This is the time of year that local organizations formalize plans for regional summertime events. It's also time for you to firm up your own seasonal outreach plans.
Tip: "What's better than a group of local athletes wearing a shirt with your logo on it?"
5x The rule of thumb for payback from traditional marketing
While the rule of thumb for payback from traditional marketing, according to Inc.com, is 5x, the return from strategies like community relations aren't as easily calculated.
Here are 8 ways you can make your business stand out by participating in and supporting local events or by creating some fun of your own.
GO OUTSIDE
It's almost summertime, so think about the great outdoors, or at least the front of your location. How about a summer-weekend sidewalk sale?
CONDUCT A CONTEST
Invite local kids to draw their idea of really cool glasses. Everybody should get something small for participating, but name a winner or two. Their pix will also be a big attention-getter if you frame and feature them on a wall.
SPONSOR A TEAM
Talk about building awareness. What's better than a group of local athletes wearing a shirt with your logo on it…or the town ball field including your logo among its list of sponsors?
FEATURE LOCAL ARTISTS
Every community has them…local painters, sculptors, artisans, and musicians. Organize a special summer series. You can feature art in-store or invite a local musician to play for guests at a weekend special or sale.
GO TO HEALTH FAIRS
Every community has them during the summer. It's a great way to promote your services, but be sure to give something like a personalized cleaning cloth away. Or offer to clean glasses right there…a great conversation starter.
VOLUNTEER LOCALLY
Encourage staff to volunteer throughout the community, and ask them to post what they're doing on your Facebook page or in your newsletter. It could be at anything from an animal shelter or local food pantry to a home for seniors.
PICK A CAUSE
Sure, you are asked to contribute to a local cause every week. And, you often have to write a check or gift product. But pick a couple of causes that mean the most, dig deeper, and make it company-wide.
CELEBRATE
There's always something to celebrate. Your location's anniversary. The 4th of July. A community milestone. Better yet, create your own fun reason to celebrate. Have an after-hours party, a TGIF champagne toast, or a weekend fashion show featuring summer sunwear.
What's the point of all this? Thinking outside of the box is healthy. More important to the bottom line, these activities will make you more visible within the community and increase loyalty to you, your business, and your team.
What activities are you already involved in at your practice? Tell us which ones have brought in business and join the conversation on Facebook here.