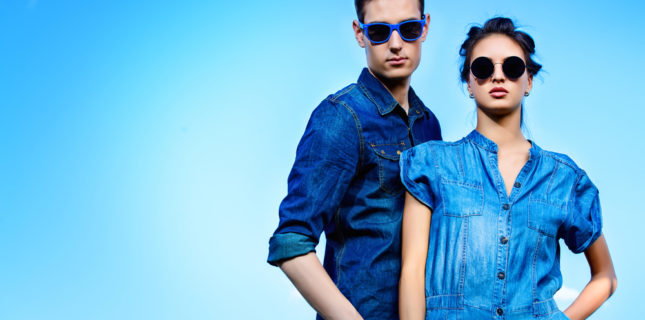 Women's Fall Fashion
What's hot for fall? Here, we look at the top women's fall fashion and eyewear trends for the coming season and how you can promote those fresh, new looks in-store and online.
Tip: "When it comes to eyewear, look for everything from oversized to organic and unisex to super feminine."
Nov. 24 Late-fall shopping is so big that Thanksgiving Day is now called Gray Thursday.
OPTIMISTIC SPIRIT. The Pantone Color Institute's Leatrice Eiseman says, "The desire for tranquility, strength, and optimism have inspired unexpectedly vivacious colors in the Fall 2016 palette…that is led by the Blue family." The newest player is called Riverside. Known as Pantone 17-4028, it's a mid-blue and very unisex.
FASHION COLORS. In the fashion world at large, Eiseman points to three other trends: grays…giving a feeling of stability; reds…inviting confidence and warmth; hot pinkish purples and spicy mustard yellows…touches of the exotic.
FRAME COLORS. Look for a mix of classics…without all the usual gender-defining differences. Though both sexes are drawn to blues, steels, and ambers, according to The Vision Council's eyecessorize.com, women will also "push the limits with hints of mint and cutesy pinks, teensy rhinestones, quilted temples, and funky browlines…bringing extra spunk to the ordinary."
FRAMES STYLES. When it comes to eyewear, look for everything from oversized to organic and unisex to super feminine. Lots of glitz and sparkle on the one hand and macho, masculine styling on the other.
APPAREL. When it comes to apparel and other accessories, there's a lack of sexuality in much of the season's clothing—from blazers and comfortable pants to loose-fitting sweaters and boots. And, like eyewear that features multiple textures and treatments, clothing, too, is stressing the layered look plus contrasts in colors and materials.
CONTRASTS RULE. Eyewear reflects contrasting looks and feels (matte/gloss, subtle prints/bright splashes), and so do women's fashions, with velvet and suede, lace and leather.
SHINE ON. Shiny metals, including a lot of gold tones, are seen in women's eyewear. And, the same was seen on fashion runways this fall. Metallics, from mesh to shiny sheens, are hot in everything from tops combined with transparent details to silver skirts and gold-toned coats. And, just as rhinestone details are big in women's eyewear, so sequins of all colors are hot in clothing.
NEXT SEASON. It may be back-to-school right now, but consumer spending in late fall has seen a bump for the last several years. With holiday shopping starting earlier and earlier, it's almost time to start discussing eyewear as a gift. Don't forget that November 24, Thanksgiving Day, is now known as "Gray Thursday."
So, what trends do you see in your market? Is it more glitz and glamour or unisex and layered looks? Tell us and share in the conversation on Facebook here.