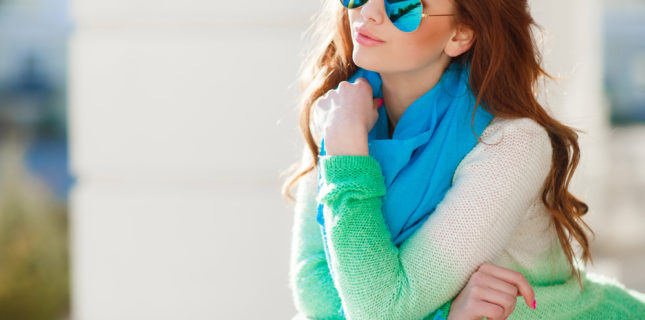 Spring Accessory Styles
Every season brings with it a fresh, new look. Here we bring you an inside peek at winter runways and what's trending on them for spring. While it's important for you to understand, and reflect these trends, we suggest you also share this trend info with patients. Plus, don't just think eyewear. Refresh your displays with few trending accessories to show you are au courant not just in eyewear, but fashion, too.
Tip: Last year's chalk-like pastels are joined by darker, but still relaxing and ephemeral, neutrals like moss and heather.
20thLook back to early 20th century modernism for some of what's inspiring accessories this spring.
> BLUE BLUE. Women's Wear Daily points to denim on everything from handbags to shoes, and everything in between. Denim and jean-like materials are everywhere, but often in softer tones like periwinkle and soft powdered tones. Elle picks up on the blue theme, too, with images of blue-on-blue sunglasses and sunlenses from New York Fashion Week.
> CUBANO. Especially for men, keep an eye out for cross-cultural looks and layers—from touristy-looking tropical prints, to batiks, and what Trendzoom calls "a retro Cuban vibe." For women, Trendzoom calls for pulsating and exotic Latin looks, with waved, curving edges.
> COLOR. Whether it's accessories or the fashions they adorn, last year's chalk-like pastels are joined by darker, yet equally relaxing and ephemeral neutrals like moss and heather. Greens are everywhere, too—one reason why Pantone Color Institute named green the color of the year for 2017.
> COMFORT. In keeping with that light and easy look, the emphasis for spring is on comfort and ease, not formality or stiff adherence to the rules.
> SHINE. Some designers report they are appealing to millennials with lots of luster—including jeweled tones and heavier metals like shiny brass and copper.
> CLASSICS. In terms of periods that are getting the nod for spring, there's renewed interest in Art Deco and early 20th century modernism.
> TEXTURE & TONE. In terms of hot textures, colourandtrends.com points to what it calls "sticks and stones and bones." Look for sand dollar tones, too, and even traditional zebra-like animal prints, but in soft beige tones.
> MERCHANDISING. Don't limit your trend watching to inventorying eyewear. Add touches of what's hot to your store décor as well. For example, buy a sand-dollar patterned pillow to toss on furniture in the waiting area or purchase some moss to create the base of a display case.
Do you focus on trends in fashion and accessories to help inspire your seasonal buying? If so, what trends for spring 2017 are impacting your purchasing? Tell us about it and join in the Facebook conversation here.