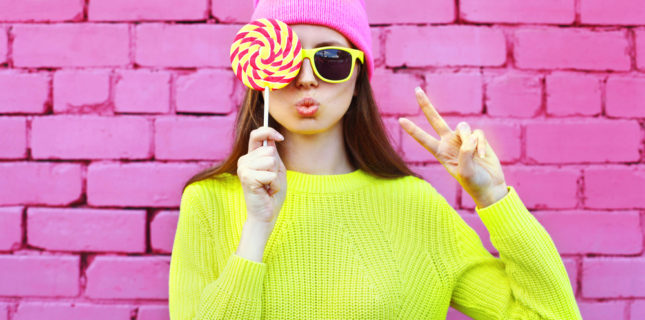 Summer Stylin'
From eyewear trends to fashions on the catwalk, we look at what's sizzling this summer.
Tip: As Vogue puts it, "Color and light are the watchwords for the summer season."
$85Men spend an average of $85 a month on accessories and clothing, compared to $75 for women.
ESSENTIAL EYEWEAR
In terms of frame and lens looks, eyecessorize.com describes three top trends:
ANYTHING GOES. For men: beyond-bold color blocking, super flashy lenses, cool gradient colorations, neon pops, hybrid/combo shapes, and cutouts. For women: "warped" graphic prints, geometrics, cat-eyes, layers, electric/neon colors, plus luxe looks with gems.
ATHLEISURE. For men: shields and updated wayfarers, shades of blue, yellow, and green, plus color blocking and mirror lenses. For women: fashion-focused additions like dual-toned finishes, pink, purple, and red colorations, everything from soft silhouettes to updated double bridges, plus bespeckled patterns.
ERAS REVISITED. For men: vintage looks—especially rounds in both wire and chunky acetate—set off with tinted lenses, ombré looks, unexpected materials, plus vintage bridges and browlines. For women: Retro glamour takes center stage, along with floral motifs, leopard prints, and jewelry-like accents.
TOP TRENDS AND SPENDS
As for fashion at large, "It's an inherently upbeat season," reports whowhatwear.com. "From no-holds-barred interpretations of the 1980s to the saturated color palette, joy is oozing from every stitch."
WATCHWORDS. As Vogue puts it, "Color and light are the watchwords for the season."
FREE SPIRITS. It's also being labeled as somewhat of a free-for-all season, as witnessed by Celine models on the catwalk in mismatched shoes and other designers showing sassy sneakers with summer dresses.
SPENDING. According to fashion PR firm Boutique@Ogilvy, "American men spend $10 more than women on clothing and accessories each month. They spend on average of $85 a month, compared to $75 for the average woman. As a result, their research concludes that the menswear market will expand at almost twice the rate of womenswear.
FASHION FOCUS
Spending aside, here are just a few of the top trends.
According to Vogue hot looks include:
SHOCKING PINK. "At the top of our list for trends of the season," reports Vogue, "is pink–as candy pink, baby pink, deep cherry, and raspberry–providing a sweet new way to see fashion through rose-tinted glasses."
SATURDAY NIGHT FEVER. Sequins and shimmer, plus iridescent texture and futuristic accents set the runways on fire.
YELLOW SUBMARINE. From lemon to fluorescent, yellow lights up the runways. Summer 2017 looks bright, concludes Vogue.
Here are a few more trends, as spotted by Cosmopolitan.
"FLOATY" WHITES. Summer high fashion will copy the beachwear-meets-eveningwear maxi dresses seen on runways this Spring.
SUPER STRIPES. They were all over the catwalks in every imaginable form: pinstripes, thick stripes, and even "stripey" boots.
What fashion trends and color preferences are you seeing for summer? Tell us and share in the Facebook conversation here.