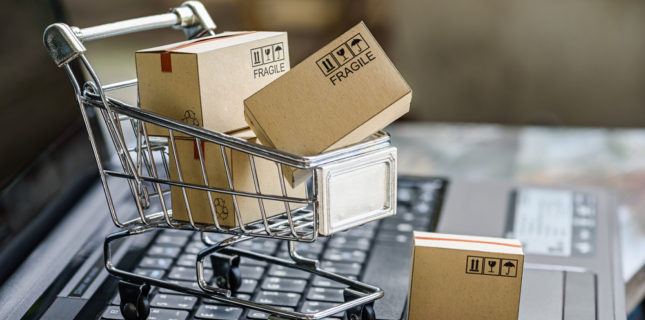 Brick + Click
Whether big or small, retail businesses are increasingly adding an online presence to their mix. The biggest reason? Millennials. Most of them have never known life without the internet, and, by 2020, they will account for nearly one-third of total spending in the U.S. That being said, there's also growing pressure for online entities to create a brick and mortar presence. Just last week, Amazon announced plans to buy Whole Foods' 400+ locations, and Etsy, queen of craft and kitsch, recently opened a shop inside Macy's in New York. For their part, consumers seem to be responding positively to transactions that combine the two formats. For example, 40% of Best Buy's online sales, and more than half of Wal-Mart's online sales, involved in-store pick-up in 2016.
Tip: Retail success is not about being all things to all people. It's about optimizing your online/offline mix.
10xOnline retail sales are growing ten times faster than brick and mortar sales.
SEE-SAW
So, how do you, as an ECP and small business owner, balance them? By focusing on getting the right mix, says Forbes. "Retail success is not about being all things to all people. It's about optimizing your online/offline mix so you can present the most desirable options to your customers."
K.I.S.S
There are lots of ways a small business can create an online entity that complements, not cannibalizes their physical location. One key, explains marketer Keith McIntire, is to keep the online presence simple. "Too many choices paralyze consumers," he explains.
OPTICAL OPTIONS
That's one reason some ECPs focus on just one thing online, and offer something different than what they emphasize in-store. That could be plano sunwear, sports eyewear, an online-only house brand, just one style/color/finish of a popular frame, accessories like chains, cleaning clothes, cases, even jewelry. One prime combo category is, of course, contact lenses. That's thanks in no small part to the growth of subscription and fulfillment services that position the online transaction as an extension of the practice. You can also use online to attract a different customer by offering lower-cost product or addressing a specific demographic. According to McKenzie, the hottest markets for online are Millennials, followed by Hispanics and Boomers. Another smart strategy? Tie the two worlds together by inviting online customers in-store with an offer of free adjustments or an in-store gift with online purchase.
THE IMPACT
How is the growth of click affecting brick?
COST. Money talks, and online is much cheaper. "I definitely anticipate more retailers shrinking their footprints," says Jim Smerdon, vice president at Colliers International. "For every $10,000 a retailer makes in online sales, it renders ten square feet of floor area unnecessary."
SIZE. That's one reason the average newly opened store is nearly 25% smaller than existing ones.
FUTURE. Looking ahead, reports Business.com, "Customers will enjoy the intimacy of the in-store experience with the immediacy and convenience of shopping online."
Have you tested the online waters? Join in our Facebook conversation here and share what you've done to balance brick with click at your location.