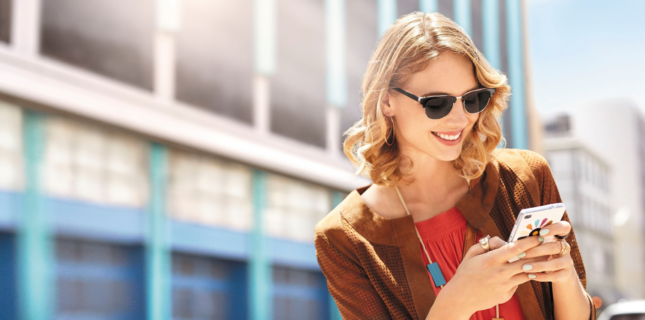 The Millennial Lifestyle and Health
By Sheena Taff, Optician, Roberts & Brown Opticians
Millennials are the largest and most influential generation in history and are more diverse, culturally significant, and open to new ways of thinking than any other generation. Combining their passion for stylish glasses and the latest lens technology can help create the perfect pair of glasses that is as unique as they are.
Tip: Recommend Transitions lenses for millennial patients to combine technology, style, and protection.
83%of millennials agree that blue light protection is important in eyewear.
MILLENNIALS AND TECHNOLOGY
Because millennials spend a large amount of time on their smartphones and digital devices, they've earned nicknames including "Generation Like," "Digital Natives," or "The Social Media Generation." However, with an increased use of digital devices, issues like eyestrain and fatigue are affecting millennial patients. Additionally, because millennials are on these digital devices so often, the discussion of harmful blue light has become a hot topic. While it's true that these digital devices emit harmful blue light, it's important for eyecare professionals to educate patients on the fact that the sun is actually the largest singular source. Fortunately, according to 2017 Transitions Employee Perceptions of Vision Benefits Survey, conducted by Wakefield Research for Transitions Optical, 83% of millennials agree that blue light protection is important in eyewear
MILLENNIALS AND STYLE
Eyewear is a great accessory for millennials to express their unique style and individuality. Smart phones and the Internet also play a large role in the millennial style journey. On social media, millennials are engaged in the lives of many people daily and are exposed to fashion and the latest trends minute-by-minute. As a result, millennials come in with a better idea of a style they seek.
THE PERFECT FIT
Combining style with technology, Transitions lenses are a great choice for millennial patients. Millennials can choose a stylish frame and pair them with different Transitions lens color options to create their own unique look. Because Transitions lenses seamlessly fade back to clear indoors and adapt to the perfect tint outdoors, they keep patients looking great and their eyes protected from harmful blue light and damaging UV as they move throughout the day. My favorite pairing for millennial patients is Transitions Graphite Green lenses in a bold tortoise plastic frame or oversized round gold wire frame.
How do you communicate to the millennials in your practice? Tell us and share in the Facebook conversation here.