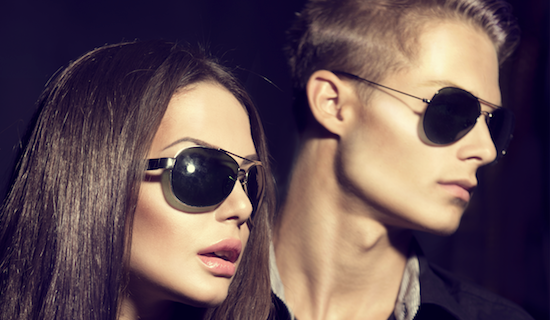 Fall Fashions…What's hot, hotter and hottest
You can't separate trends in fashionable eyewear from fashions on the runway. That's especially true now that glasses, especially sunglasses, are becoming an integral part of fashion's overall look. To give you an inside look into what's hot, here are some of the latest trends in both arenas for fall and winter.
Tip: Standout shades for Fall include Ballet Slipper pink, Golden Lime and bright Marina blue.
2.5%the fashion industry will grow from between 2.5% and 3.5% during 2017.
FOUR EYEWEAR TRENDS
In eyewear, eyecessorize.com points to four key fashion trends:
ATHLEISURE INFUSION: Going beyond sporty to easygoing silhouettes, eye-popping colors and silhouettes are seen in three hot styles–rounds, aviators, and wayfarers. Top colors for men are red, yellow, and blue. For women, it's purple, hot pink, and emerald.
ELEMENTAL PANACHE: Textures, materials, and hues draw their on-the-wild side inspiration from fall's outdoor earthy tones. The range includes "aqua and sky blues; seafoam, grassy, and olive greens; citrus oranges; mustard yellows; coffee ambers; and chocolate browns."
FASHION UNSCRIPTED: It's all about no boundaries for designers presenting "newly envisioned pantones, structures, lens treatments, and more" that cross all gender barriers.
MEN'S LOOKS: Hot colors range from lime green and neon purple to coral and cherry red. Also look for touches of translucence, gold, and thatch-like patterns. The shapes themselves represent new territory with "revamped teardrop profiles, stud embellishments, wire constructions, and frame-less profiles."
WOMEN'S LOOKS: Styles are definitely approaching wearable art, with "honeycomb-esque pieces, scalloped edging, 3D-printed frames, floating illusions, high-gloss finishes, and encrusted gemstones." Look, too, for triple bridges, cat eyes, and metal appliques, plus marbled effects, especially in the mauves, deep red, and teal families.
SLEEK + SWANK: Metallics and rich pigments add a fresh, sophisticated look to traditional blacks, tortoise, and grays, while "audacious silhouettes" offer a refreshing flair.
FOUR FASHION TRENDS
From runways in Milan to catwalks in Paris, here are four hot fashion trends. It's always good to be able to share this information with patients as it can definitely help with their eyewear selection. Plus, it definitely shows you're in the know and positions you as the expert you are.
ELLE: "Americana vibes, a powerful way to wear red and vintage-inspired everything."
STYLECASTER.COM: "Pantsuit nation, fringe benefits, burgundy, new Americana, checkmate, golden girls, cozy/crazy, political statements, heavy metal, deconstruction."
PANTONE COLOR INSTITUTE: "The color palette for Fall 2017 leans to warmth. Standout shades including a pale pink Ballet Slipper, a refreshing Golden Lime, and a bright Marina blue. These add a striking touch when paired with classic autumnal shades of Navy Peony, Neutral Gray, Butterrum and Tawny Port."
What's the spending picture? According to McKinsey and Company, fashion-industry growth will increase by 2.5 to 3.5 percent this year."
What about you? Does your dispensing staff talk fashion trends with patients and customers? If so, tell us the impact on sales of providing a broader fashion picture by joining in the Facebook conversation here.