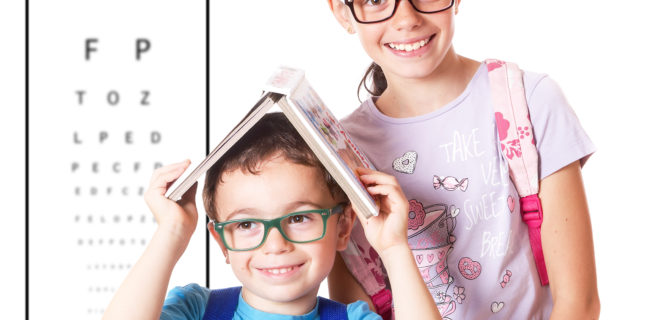 Talkin' Back…To School, That Is
It's that time of year. School is in session, so parents and teachers are beginning to notice vision problems in the classroom. Plus, in-school vision tests usually take place over the next few weeks. Combined, that means new opportunities to meet the needs of young children. To help, here are seven subjects you may want to address with parents.
Tip:  Tell parents that exposure to natural light may help reduce the likelihood of nearsightedness.
90%of brain development occurs between birth and five years of age.
DETECTION: One in four school-age kids have an undetected or untreated vision problem. Considering that up to 80% of learning is acquired through a child's visual system, good vision is imperative. You know that. The key is to share it with parents.
DEVICES: According to the American Optometric Association, 41% of kids spend 3+ hours a day on digital devices, and close to 70% have their own smart phones. As we know, but parents don't, those devices give off high-energy, short-wavelength blue and violet light.
COMFORT: Research suggests that heavy exposure to blue light may contribute to eyestrain and discomfort, and might lead to later-in-life conditions like age-related macular degeneration. Those are just two good reasons to look into products like Shamir's Blue Zero™ for kids. It's now available in polycarbonate, so that's definitely a great combo for your youngest patients.
OUTDOORS: According to The Vision Council, children who play outside with regularity are 23% less likely to develop myopia than their "couch potato" peers.
SPORTS: Most eye injuries among kids aged 11 to 14 occur while playing sports, reports the National Eye Institute. Explain to parents how protective eyewear for their kids can substantially reduce the risk.
PERFORMANCE: According to the National Commission on Vision and Health, "Children who are successfully treated for their eye problems show increased performance in school, [including] improved grades and higher scores on standardized tests." That information should be music to a parent's ears.
EXAMS: A big problem, reports VSP, is that only "10% of kids from birth through age five have had an eye exam. This is a missed opportunity given that 90% of brain development occurs between birth and five years of age."
Why is that so serious? "Long before most kids step foot into a classroom," concludes VSP, "the foundation is being laid for a lifetime of learning. Without proper vision, that foundation is weaker than it should be." How do you help families build a strong foundation for their children? Tell us how you educate parents about the importance of early detection and treatment for kids and share in the Facebook conversation here.
Comments are closed.