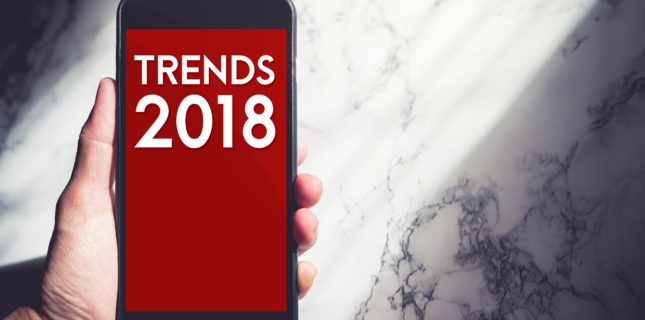 NEED-TO-KNOW BUSINESS TRENDS
From small business to pure retail, knowing the trends will help keep you ahead of the curve in the new year. That's why we reached out to a variety of experts—retail gurus, small business leaders, trend watchers, and more. Read on to find out what they have to say about 2018, including what ice cream has to do with business success.
Tip: The multichannel journey — from store to website to app and back to a store — is the way more Americans will shop in 2018.
89%of executives say a strong sense of collective purpose drives satisfaction.
COLLECTIVE PURPOSE
89% of executives surveyed say a strong sense of collective purpose drives customer and employee satisfaction, and 80% say it helps increase customer and employee loyalty.
Source: Harvard Business Review
EMPATHY + ENGAGEMENT
The new recipe for successful engagement in business today is centered around three core themes: aspirational purpose, inclusion, and empathy.
Source: Forbes
THE EXPERIENCE
Ever heard of the Museum of Ice Cream? It doesn't sell ice cream. Instead, it invites people to play and throw sprinkles. The point? Customers want a story. They want an emotional connection, and they're looking for organizations with shared values.
Source: Workzone
DUAL PRESENCE
60 percent of shoppers prefer to buy or interact with small businesses. But 67% say it's also important to them that small businesses have a strong website. Want to grow? Stress both in 2018.
Source: Business writer Annie Pilon
PERSONAL TOUCH
69% of consumers say they would want to shop with a small business more if the owner knew them by name.
Source: Small Business Trends
CHALLENGING MILLENNIALS
They've already been the largest generation in the workforce since 2015. Plan ahead. Give them the tools…don't wait until you have a void to fill to train them. That's valuable time you're wasting.
Source: Jeffrey Hayzlett, business celebrity and former CMO of Kodak.
SEAMLESS TRANSITION
The multichannel journey — from store to website to app and back to a store — is the way more Americans will be shopping in 2018.
Source: National Retail Federation's Jessica Hibbard
CONSTRUCTIVE DESTRUCTION
"Curiosity, insatiability, and even the willingness to destroy what's worked in the past, [will be] a more rewarding approach than succumbing to protectiveness and complacency."
Source:  Best-selling author and consultant Jeremy Gutsche
ADVERTISING CHANNEL
Think before choosing TV for advertising. "By the end of 2017 about 22.2 million Americans ditched their cable TV providers, a 33.2% increase from 2016. Those losses will rise in 2018."
Source: Fortune.com
WEAK SPENDING. Following weak growth into early 2018, wages will rise, improving incomes and enabling faster growth of consumer spending.
Source: Economist and consultant Bill Conerly.
What do you see ahead, and what changes are you making for 2018? Tell us and share in the conversation on Facebook here.