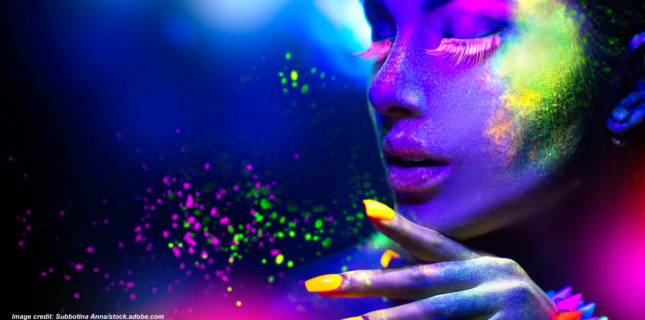 Key Colors for 2018
Whether it's about purchasing frames, merchandising them, or communicating with patients, you need to know what colors are hot. To help, here's a look at two sets of color trends for 2018, as reported by The Pantone Color Institute—a just-released one on "everywhere" colors and an earlier release on fashion-only shades for Spring.
Tip: Intense colors seem to be a natural application of our intense lifestyles and thought processes these days.
#1 Ultra Violet, a deep purple, takes the top color spot for 2018.
TOP "EVERYWHERE" TRENDS
PURPLE. Pantone just announced the Color of 2018…a deep purple called Ultra Violet.
BRIGHT. According to Leatrice Eiseman, executive director of the Institute, bold colors will take hold in 2018. For example, pink will be seen in intense shades, not the pastels of 2017.
INTENSE. More than just bright, explains Eiseman, "Intense colors seem to be a natural application of our intense lifestyles and thought processes these days."
NEUTRALS. "Metallics are classic, but now they have really moved into neutrals," says Eiseman. Also expect to see iridescent pearlized and translucent looks, she adds.
EVERYWHERE COLORS
This just-released overall forecast is about colors for home and business, not just fashion. While Ultra Violet purple takes center stage, other color combinations will play supporting roles for 2018. They include:
RESOURCEFUL, complementary oranges and blues that combine warm and cool tones
VERDURE, a vegetal color of celery + berry-infused purples and eggshell blues
PLAYFUL, Minion-like yellows + lime popsicles
DISCRETION, soft hues of elderberry and rose
INTRICACY, a neutral metallic + holly berry red and sulfur yellow
INTENSITY, an eclectic mix, balanced with black and gold
TECH-nique, a combination of bright turquoise, pink, and purple with bright white and frosted almond
SPRING FASHION COLORS
Released following New York Fashion Week in Sept., here are the top fashion tones Pantone sees for Spring 2018. "This…palette embraces the lack of gender and seasonal borders we are seeing within the fashion industry," says Eiseman. The season's top pick in fashion? A bold, lively bright yellow called Meadowlark. Other key colors include Ultra Violet, which was just named 2018's top all-around color, as well as:
IMPULSIVE CHERRY TOMATO, an orangey red
LITTLE BOY BLUE, an azure blue shade
CHILI OIL, an earthy brown-based red
PINK LAVENDAR, a soft and romantic violet rose
BLOOMING DAHLIA, a subtly alluring and understated tone
ARCADIA, a cool, clean take on green, with blue undertones
EMPERADOR, a rich chocolate-infused brown
SPRING CROCUS, a flamboyant and tantalizing fuchsia
LIME PUNCH, a sharp and striking citrus
SPRING CLASSIC COLORS
Pantone points to four anchoring colors for Spring.
SAILOR BLUE, a navy-like blue
HARBOR MIST, a mid-tone dove gray
WARM SAND, a comforting neutral
COCONUT MILK, a classic mainstay of white/off-white
For more on eyewear-specific colors, click here to check out our Sept. 20 post on frame trends. How does your practice let patients know you're up on the latest fashion trends? Tell us about it and share in the Facebook conversation here.