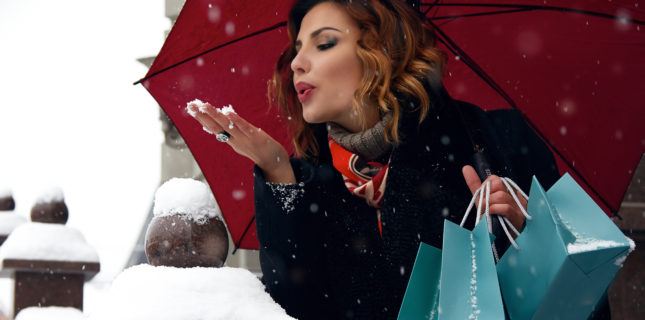 Neither Rain Nor Sleet…
Mail carriers may come out in all sorts of weather, but patients…not so much. While forecasts aren't always accurate, tying promotions and staffing to the season's weather patterns is of value to businesses large and small. In fact, Retail Assist has determined the two biggest factors determining how people shop are 1) the economy, and 2) the weather.
Tip: According to UCSD, an inch of precipitation decreases same-day sales by 4.6%, while snowfall decreases them by 12.9%
4.5%of sales are affected by weather.
BRRRR
So how is the weather likely to behave this winter? La Nina will show her presence for sure. According to IBM's Weather Co., warmer-than-average temps are expected in the South, especially the Southwest, while the North is forecast to experience slightly below-normal temperatures in coming months. As for its impact, approximately 4.5% of sales are affected by weather. Retail analyst Patrick O'Brien points out that, "though weather definitely impacts business, it can have contrasting impacts, depending how the impact is likely to vary for different products."
OMNICHANNEL
For obvious reasons, online sales pick up in cold and inclement weather. That's one reason to consider selling online as well as in-store. Another? ICSC (International Council of Shopping Centers) reports that "Omnichannel consumers spend 3.5 times more than other types of shoppers."
TRACKING
Do your homework and invest the time to track what sells in different types of weather. You might be surprised, reports The New York Times. Walmart, for example, discovered it sells seven times as many strawberry Pop-Tarts just before a hurricane, and their top-selling item just before a storm is beer.
IMPACT
How big an impact can not matching inventory to weather predictions have? A lot, reports Steve Madden shoes, whose retail business fell 3.8% last October simply because warmer-than-usual weather killed typical fall boot purchases.
DRILLING DOWN
Analyzing weather data's impact on retail is big business. According to The Climate Company's Jim Menard, "We run, in some cases, models down to under one kilometer. You're down to almost street level in being able to forecast: Where is the cloud bank? Where is the fog going to be, etc."
STATS
According to research at University of California San Diego:
• WORST: The worst 5% of weather days for shopping reduce same-day sales by 12%.
• BEST: The best 5% of days in terms of weather being favorable for shopping increase sales by 3.4% and 3.1% respectively on the day before and the day after.
• MOOD: Howarth and Hoffman report that both skepticism and anxiety decrease in higher temperatures. Sunshine encourages purchasing, precipitation discourages it.
Do you track and implement changes based on weather expectations? If so, tell us how you track it and share in the Facebook conversation here.