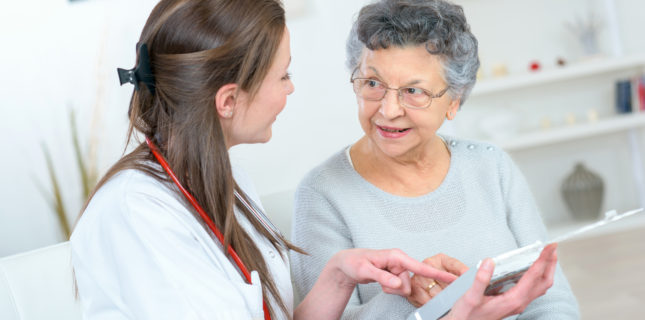 Low Vision Awareness
More than six million Americans suffer from uncorrectable vision impairment. Despite that stat, says Richard Shuldiner, O.D., founder of The International Academy of Low Vision Specialists, "low vision care remains the most neglected service in optical." To help, Feb. has been designated Low Vision + AMD Awareness Month. Why is that so important? Because oftentimes both patients and caregivers feel at loss in trying to make the most of remaining vision and coping with lifestyle limitations.
Tip: February is Low Vision + AMD Awareness Month. Here are resources to share.
6 millionAmericans currently suffer from uncorrectable vision impairment.
OVERCOMING DISCOMFORT
Sometimes, it's the caregiver who really needs help in pushing the patient. "As with any condition that limits one's ability to function and requires adaptive equipment, there is often concern about how one looks," explains Thomas Porter, O.D., FAAO, director of low vision services at St. Louis University Department of Ophthalmology. "Being embarrassed about an impairment can cause individuals not to ask for proper care." That's where you and your staff can come in. And, to help, here are several resources to recommend.
COPING TO COOKING
Here's a look at just a few hands-on websites and videos.
DOCU-SERIES: In celebration of AMD Awareness Month, Prevent Blindness has teamed up with Bausch + Lomb in a #WhyEyeFight docu-series featuring stories of people living with AMD.
M.D. ROLE: Last winter, The Academy of Ophthalmology released a low vision video, "There is Something Else You Can Do." Philip Rizzuto, M.D., clinical spokesperson for the Academy, explains: "The video is part of the Academy's initiative to make vision rehabilitation the standard of care for patients who are visually impaired…and to provide information about vision rehabilitation resources."
DIVISION: The Vision Council's Low Vision Division details some of those services in a comprehensive website, whatislowvision.org. It addresses a range of practical topics including information on devices, daily living aids, and a blog featuring tips on everything from using Facebook to cooking.
FEED ME: Speaking of cooking, patients can also check out lowvisionchef.com or watch "The Low Vision Kitchen" on foodnetwork.com. To find resources like these, your best bet may just be a Google search.
ORGANIZATIONS AND MORE
Here are just a few of the country's key low vision organizations, and how to access some of their resources.
DRIVING: www.biopticdriving.org
JUVENILE + ADULT M.D.: www.maculardegeneration.org
TECHNOLOGY: Assistive Technology Industry Association
www.atia.org
BOOKS, E-ZINES: American Federation for the Blind (AFB), producer of talking books + publisher of online magazine, AccessWorld:
www.afb.org
VIDEOS: The National Eye Institute, including its series of videos:
www.nei.nih.gov. (also nei.nih.gov/youtube/lowvision)
SUPPORT: Lighthouse Guild, with resources that include tele-support groups for adults, children and parents:
www.lighthouseguild.org
The point is to share resources like the ones we've listed here — whether it's an in-office printout or a posting on your website.
How do you handle low vision patients in your practice? Tell us and share in the conversation on Facebook here.