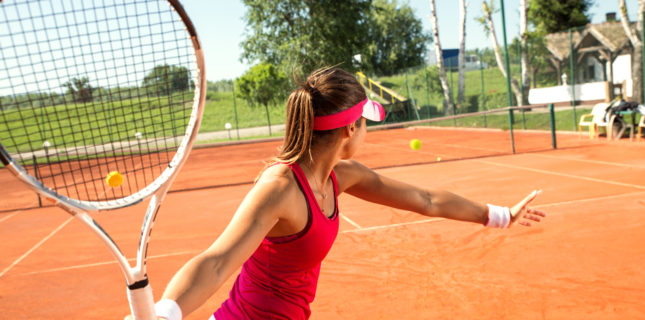 Sports + Eye Safety
This is Sports Safety Month, according to the American Academy of Ophthalmology. Various organizations designate different months as their "sports safety month," At the AOA, for example, it's June. Both designations seem timely. Spring has sprung, and that means baseball, swimming, tennis, and more. As Doug Meltzer, O.D. says in The AOA Focus, "It's an opportunity for doctors of optometry to talk with patients about…proper protective eyewear this summer. This is the prime opportunity to promote…designs that provide a better wrap and protection of the eyes…including helmets." Here's a look at info on eye safety + how to spread the message and grow the category in your practice.
Tip: Tell coaches to keep an ocular emergency first aid kit on the bench so that any eye trauma can be dealt with quickly and correctly.
90%of sports-related eye injuries are preventable, according to the National Eye Institute.
SAFETY STATS
PARTICIPATION. 70% of Americans report they are involved in athletic activities. However, reports the American Optometric Association (AOA), only just over 30% of adults wear any eye protection while participating in sports. And sadly, only half have introduced their children to any form of eye protection.
FREQUENCY. 15% of the annual eye injuries in the U.S. are the result of sports/recreational activities.
PREVENTABLE. Up to 90% of sports-related eye injuries are preventable, according to National Eye Institute (NEI).
SPORTS. The highest risk sports, according to the NEI, are baseball/softball, basketball, boxing, hockey, Lacrosse, paintball, and racquet sports.
AGES. For kids under 14, baseball is the leading cause of eye injury. For 15-24 year olds, it's basketball.
SAFETY MESSAGING
HISTORY. Add sports-related questions to your history form to help assess patients' sports vision requirements.
STANDARDS. Tell athletes to wear eye protection that meets ASTM (American Society for Testing and Materials) standards.
SAFETY STRATEGIES
BENCH. Recommend that coaches keep an ocular emergency first aid kit on the bench, says the AOA, so eye trauma can be dealt with swiftly and properly
CARD. Coaches should have an ocular emergency triage card on hand like the one from the AOA Sports Vision Section ( http://bit.ly/1EJIyCJ).
OPPORTUNITIES
Being the first ECP to take an interest in and solve patients' sports-vision problems can be a great way to grow your practice.
TREND. "With the amount of performance eyewear we are selling," says Rand Smith, owner of eyeSmith Sports & Fashion Optical in Parkville, MO, "consumers are definitely more actively engaging in physical activities such as tennis, golf, biking, etc."
EVENTS. Doug Jordan, O.D., who practices at Vision Clinic in Springfield, MO, and is the founder of Viscious Vision, says the practice sends a booth to at least one event a month—Chambers of Commerce programs, women's and sporting shows, plus The Cards' Double A Club where they sponsor an annual vision day. And, for Optometry Giving Sight, the practice holds its annual Terrible 5K Run.
Is your practice actively involved in sports safety and messaging? If so, what do you do to educate patients and local sports groups? Tell us and share in the conversation on Facebook here.