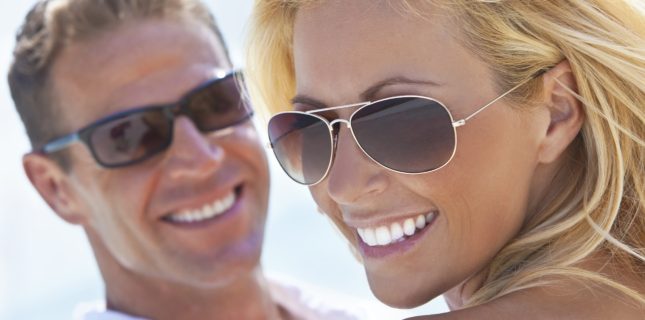 Summer 2018 Sunwear Trends
According to The Vision Council, there were 2.4M new sunglass wearers for the year ending in March 2017. Why? "Mostly due to the rise…among women and people over age 55, especially from higher-income households." The hottest region? The Mountain-Pacific area.
Tip: When selecting frames for a client to try on, bring one for everyday wear and one for sun.
+$200 Premium-priced sunwear sales increased by 20%
lastyear
What else?
HIGHER PRICEPOINTS. In the plano sunglass arena, the biggest drop in sales for the calendar year 2017 was in $30-and-under product. The biggest growth? Premium-priced product. The +$200 per pair purchases increased by nearly 20% for the year ending December 2017.
PURCHASE PROFILE. Different from the overall sunwear category, the high-end buying increased most among males, people under age 35, and those with an annual household income of over $60,000. The hottest regions? The Northeast and Midwest, according to The Vision Council.
CATEGORY GROWTH. The findings of the Eyecare Business annual Frame + Sunwear Virtual Focus Group confirm those findings, with 61% of respondants reporting an increase in sunwear sales. In addition, 37% saw sunwear as their fastest-growing category, with it taking up more frame board space (20%) than any other specialty.
COMPETITVE SCENE. While competition from online sellers continues to increase, there are other competitors as well. According to a Euromonitor International report on U.S. eyewear sales, "While sunglasses have increasingly become key accessories, more fashion retailers are entering the market."
MARKETING TIPS
Growing the category requires a commitment in terms of inventory, and to marketing as well. Here are a few fresh ways to promote sunwear in your business.
PRESENTATION. When bringing out frames for a client, bring one for everyday and one for sun.
SECTION. Create a sunglass corner or sunwear section within your location.
WALL OF FRAME. Feature images of satisfied sunwear buyers in their new eyewear online or framed in a prominent spot at your location.
BUY 1… Offer a discount or some other incentive if the consumer purchases everyday and sun.
FASHION FOCUS
Here are nine sizzling sunwear styles that consumers are craving:
Rounds—from '60s big to the truly tiny
Drop temples + flat visors
Large retro cat eyes + very future-focused ones
Colorful shapes with embellishments and attention-grabbing color combos
Sci-fi features, especially in shields
Visible logos and temple details
Sports eyewear styles for everyday
Rimless in barely-there looks
Classic wayfarers and sleek, timeless "squares"
What trends do you see and what do your buyers and opticians say is hot? Tell us and share in the conversation on Facebook here.