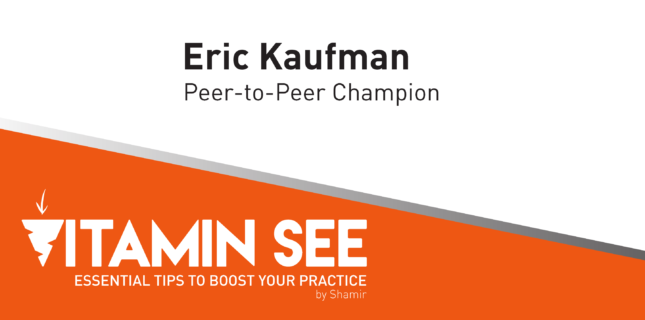 Business Development Strategies
I'm Eric Kaufman, practice manager for Insight Vision Care in Sugarcreek, Ohio, where my dad is the primary owner. We've been in practice for 40 years. There are now four ODs in two locations. I joined Insight Vision four years ago and run the business side. My background is in technology, not optical. As a result, I look at everything from more of a business development and business structure perspective. A lot of what I do is develop the practice as it relates to other businesses — both within the community and with suppliers
OPTICAL PARTNERSHIPS
There are a lot more connections in business than people think. It's important to understand that your suppliers are a crucial part of your business, and that their success is your success. That's why you need to develop a good solid foundation with them–not only labs, lens, and frame suppliers, but also with your employees and doctors. Anyone to whom there is an outflow of money is a supplier. Seeing and valuing their importance helps build a good business foundation.
CUSTOMER PARTNERSHIPS
The flip side of that is, of course, our customers. We're partners with them, too. You have to look at every step, and every need, through their eyes. That means vision, eye health, service, and value. It's my responsibility to make sure all of that works and is in sync financially, too. One thing we do is go to local businesses that don't offer vision insurance to employees. It's a great way you can create a partnership that both sides will value.
MENTAL MAP
It's really about developing a mental map of who is cooperative, who is competition, and then to figure out how you can benefit each other. One thing we're doing is partnering with our local library's take one/leave one program. We're working on having that in our waiting room and creating a bookmark with our logo or "sponsored by" on it that they can give away. For us, the library is where our ideal customer — a young family — is likely to be. We target both the parents and school-age kids. It's about looking at where your ideal customer is and how to best reach them there.
LOOK + LINES
70% of our patients don't have insurance, so we keep a close eye on what we carry. We don't carry boutique brands, for example, but focus on good names we're proud of and know will last. The store reflects that, too. We're going to be moving, and it will mirror what our patients expect to pay. I see it as kind of reverse engineering. Figure out your customer. Then determine his or her price point, and decide everything else based on that—how the shop should look, what frames to carry, how much to mark up product, and how much you can afford to pay staff. I start with what the patient is and wants, and then reverse engineer from there. When the medical side is your passion, having to be a small business owner can be tough. We let those core values guide us. We hire character and train skills. That's our mindset.
How do you address these challenges in your practice? Tell us and join in the Facebook conversation here.