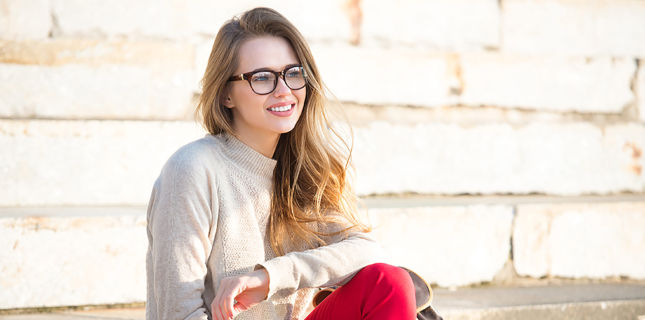 Fall Fashions
What's trending in eyewear for this Fall? The Vision Council's online community, Eyecessorize, just released its seasonal report on the hottest styles for the season. Here we take a look at all the deets — colors, shapes, and more — inside each of the leading trends for both men and women.
Tip: Top trends include an outdoor palette — browns, reds, grays, blues, greens and more
DOWN TO EARTH
Shapes: Squares + rectangles; rounds redux with double bridges; aviators and shields; cat-eyes and ovals.
Colors: An outdoor palette — browns, reds, grays, blues, greens, off-whites, blacks, beiges, nudes, and burnt oranges.
Details: wood finishes, color blocking, distressed accents, animal and floral prints, and patterns.
Lenses: Tinted lenses in "earthy hues."
GLOBAL PERSPECTIVE
Shapes: You name it…everything from cat-eyes, geometrics, squares, and rounds to hearts, sporty shields, and "wildly new" aviators.
Colors: Everything super bright or neon — including hot pinks, vibrant yellows, scarlet reds, intense teals, mixed with "the occasional grounding neutrals and pastels."
Details: Brow accents, cut-outs/layered effects, both translucent and matte finishes, even hounds-tooth patterns and polka dots.
Lenses: Flash and tinted lenses in primary colors.
MOODY MUSINGS
Shapes: Streamlined cat-eyes and other futuristic profiles. Rimless, shield, wraparound looks. Oversized, "jagged" squares, plus angular and teardrop aviators.
Colors: Lots of metallic, like rose and yellow golds, copper, and gunmental, plus dark navy and jet black, along with crisp whites and crystal clears.
Details: Bejeweled structure, heavy metal accents, vinyl-like fronts, brow bars, both gloss and matte finishes.
Lenses: Mirrors and gradients.
STUDIOUS + SULTRY
Shapes: Clubmasters, soft rectangles, ovals, rounds, plus fresh interpretations of cat-eyes and aviators.
Colors: Metallics plus neutrals (grays, nudes, browns), along with classic shades of red, blue, and yellow.
Details: Traditional keyhole bridges, dual-toned coloring, engraved and striped looks.
Lenses: All sorts of colors, especially softened yellows, oranges, and greens.
Check out these trends, and corresponding frames, at www.eyecessorize.com
How do you keep up-to-date on eyewear trends? Does a key employee communicate what's hot, or do you depend on suppliers? Tell us how you get your fashion intel and share in the conversation on Facebook here.