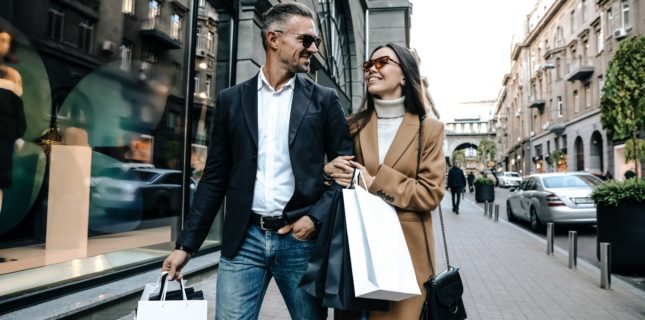 Retail 2019
What's in store (literally) for retail 2019? The retail gurus at the National Retail Federation (NRF) have already upped expectations for 2019. Despite concerns about trade with China and a number of political uncertainties, the NRF cites a Wall Street Journal report that the economy will grow 2% in both 2019 and 2020, which is slightly lower than the recent 3% rate.
Tip: Social consciousness is imperative, so accentuate brands that are tapping into environmentally friendly initiatives.
2%The Wall Street Journal predicts the economy will likely grow 2% in both 2019 and 2020.
WHY GROWTH?
The NRF cites three key characteristics of a healthy retail economy for 2019:
• convergence of channels (an increasingly seamless flow across online and in-store);
• reimagining of the store (as retailers become ever more mindful of the local market as well as specific customer segments);
• and a new retail environment (that embraces fresh formats and new business models).
Here's a closer, drilled-down look at just a few of the top trends for retail 2019. We focus on these four because each of them will directly impact optical and can also be translated into can-do's for smaller businesses.
INCLUSIVITY
In the clothing category, especially, brands are embracing every body. Literally. Why not embrace diversity in your dispensary, too, by emphasizing and calling out frames for petite faces and frames for large faces? Consumers in both categories claim it's hard to find eyewear that fits, so make the journey an easy and well-marked one.
Fitting will become even more important as Gen Z—and the 47% of its population identifying as multi-racial—spends more time in your practice. It will also be important thanks to fitting trends already seen among clothing retailers like Abercrombie & Fitch launching Everybody, its line of gender-neutral clothing, and Nordstrom, which now requires all women's brands it carries to produce product for every size (from 00 to 24).
SOCIAL CONSCIOUSNESS
Large retailers are accentuating brands that tap into environmentally friendly initiatives. You can, too, and then take that a step further by finding out what causes are important to your best customers, and tapping into those causes as well.
It's really part of a larger trend of focusing on emotional drivers. That can include not just the product you promote but something as simple as the music you play as well.
PRODUCT REDUX
Second-hand is hot. So is vintage. Why not play into those trends and sell fun, playful vintage and maybe even gently used name-brand frames? There's a big market here, and, paired with the latest lens technologies, these products represent a whole new avenue that may appeal to not just your existing base, but a different customer, as well. It's certainly something to brag about and promote online.
SHOPPING SOCIAL
You may not want to be like Kylie Jenner, who just offered a palette of eyeshadows exclusively on Snapchat, but you can definitely use social, even in-store. Like it or not, three out of 10 consumers are on social media while shopping, especially younger customers, so give them access to tablets, virtual try-on technology, etc.
You can't do everything, but try focusing on at least one new hot-for-2019 trend. It can bring in new business, but, almost as important, it can also energize staff.
What are you doing that's new this year on the retail side of your business? Tell us about it and share in the conversation on Facebook here.
Sources: Alliance Data, Fast Company, Epsilon Shopper's 2018 Voice Survey, The Wall Street Journal, The National Retail Federation
Image credit: Jet Cat Studio/adobestock.com