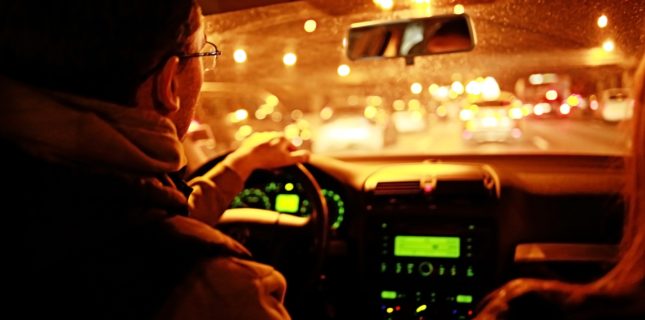 Night Driving and Vision
If you're like most eyecare professionals, you hear more complaints from patients about difficulty driving at night than any other single subject.
Tip: Get enough sleep. Losing two hours of sleep has the same effect on driving as drinking three beers.
500 feetEven with high-beam headlights on, visibility is limited to about 500 feet (and 250 feet for normal headlights).
• IMPACT. According to research conducted on behalf of Acuvue contact lenses and Road & Travel Magazine, almost one third of drivers surveyed said they are challenged by night driving.
• PROBLEMS. The two primary problems causing it? According to that same research, they are cataracts and under-corrected myopia or astigmatism. Glaucoma patients are definitely in that mix, too. Whatever the cause, the culprit is distortion of light rays from the glare of oncoming headlights.
THE CHALLENGES
• COMMUNICATION. There's more you can do, however, and that's reaching out to educate patients about the problems and to offer some smart strategies for seeing better at night.
It's a super subject to address in social media, and in-office, too, with posters, waiting-room videos, etc. Subjects to cover? Eye fatigue. Glare. Night driving and the aging eye or, on the other side of the age spectrum, young drivers. We will, in fact, address some of those here.
• FACTORS. The American Optometric Association puts what happens at night in layman's terms. "At night, the pupil's size increases, allowing for more aberrations from uncorrected prescriptions (for glasses and/or contact lenses) due to unfocused or scattered light rays. Then there are environmental factors, brought on by heaters (in office settings or vehicles), and stronger, outdoor wind currents that can cause low humidity and lead to dry eye."
• VISIBILITY. The National Safety Council addresses the subject of visibility. "Even with high-beam headlights on, visibility is limited to about 500 feet (and 250 feet for normal headlights), creating less time to react to something in the road, especially when driving at higher speeds."
• FATIGUE. Fatigue can also be a big factor. A National Sleep Foundation poll found that nearly four in ten (37%) of drivers surveyed have fallen asleep at the wheel. A whopping 13% admit they fall asleep while driving at least once a month, and 4% report having caused an accident by falling asleep while driving.
DRIVING TIPS
To say some of these stats are downright scary is an understatement. To help, here are some tips and to-dos from multiple sources, including the American Optometric Association, the Academy of Ophthalmology, and National Safety Council.
These are especially important for older drivers. Why? Because, according to the AOA, "A 50-year-old driver may need twice as much light to see as well as a 30-year old."
• ALL DRIVERS: Dim the dashboard; routinely clean your headlights and windshield; and make sure eyewear is AR-coated.
• OLDER DRIVERS: Reduce speed; take a refresher course; reduce distractions; check for side effects of prescriptions; and, finally, consider driving in daytime only.
Not all of these will be popular, especially with older patients. But they need to hear it…and you are their most respected resource, so share this important information.
Do you discuss night driving hazards and offer tips to be safe on the road? If so, tell us how and where you communicate this information, and share in the conversation on Facebook here.