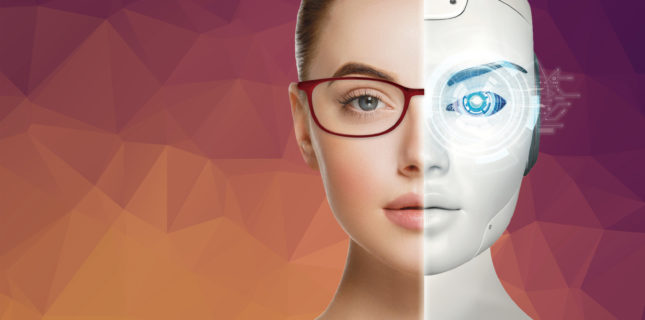 Autograph Intelligence…3 New Technologies
How smart is the new Shamir Autograph Intelligence™ continuous lens design? Very! Launched last fall, it was built on the premise that the one-design concept just doesn't make sense when trying to meet diverse patient needs.
Tip: "We ensure that every patient receives a unique lens design suited to their specific Visual Age™ and based on their visual needs."
12The Shamir Autograph Intelligence™ progressive lens is actually 12 different designs based on diverse patient needs.
THE CORRELATION
Shamir's proprietary research revealed a correlation between patients' visual needs and their Visual Age™ — that is, the physiological age of the eye (the required addition), which is generally correlated with the patient's chronological age.
BREAKTHROUGH TECHNOLOGIES
The result is 12 different designs. In addition to proven technologies — like IntelliCorridor™, Natural Posture™, As-WornQuadro™, and Close-UP™ —they utilize three new breakthrough technologies to make it so intelligent.
PROVEN TECHNOLOGIES
Here's a look at just one of those proven technologies: IntelliCorridor Technology.
IntelliCorridor Technology is the ability to fit the corridor profile to every design concept. Until now the same corridor concept of a product was applied to all Visual Ages. This proven technology is now utilized in Shamir Autograph Intelligence, providing a unique addition progression to suit every Visual Age™ based on its particular visual needs and Shamir's new HEIM (Head Eye Integrative Movement) findings.
NEW TECHNOLOGIES
Here are the three new technologies, and why they are so important.
• EYE-POINT TECHNOLOGY AI™
Using HEIM (Head Eye Integrative Movement software), which was developed by Shamir engineers, Shamir was able to determine through exactly which areas in the lens patients actually look — along both the vertical and horizontal meridians — in the different vision zones. This technology enabled them to design a lens that takes into account actual viewing angles computed for every distance.
"Previously," explains Shamir, "our designs were based on simulated eye movement. Now we actually know where the eye looks. Whereas in the past we simulated, now we see."
• CONTINUOUS DESIGN TECHNOLOGY™
With Shamir's new Continuous Design Technology, the company's optical designers are able to integrate various "design genes" based on a number of prototypes developed to form the foundation of one product with a continuous design concept.
By applying the technology to Shamir Autograph Intelligence, explains Shamir, "we ensure that every patient receives a unique lens design suited to their specific Visual Age™ and based on their visual needs."
• VISUAL AI ENGINE™
Visual AI Engine implements the continuous design concept along the entire matrix of optimization parameters such as sphere, add, face-form angle, pantoscopic tilt, fitting height, base curve, and index. Mimicking human intelligence, the engine runs a multi-dimensional optimization process, based on the various design genes.
According to the company, "The complex design required for Shamir Autograph Intelligence would have been too demanding to achieve without the new technology of the Visual AI Engine."
THE RESULT
The end result of these technological advances? Shamir Autograph Intelligence — the company's top-of-the-line, most advanced progressive lens that, according to the company is "ushering optics into a new dimension in optimally customized, patient-centered lenses."
Want to learn more? Check out Shamir's dedicated microsite, www.autographintelligence.com.
Have you tried the new Shamir Autograph Intelligence progressive lens? If so, tell us about your experience and share in the conversation on Facebook here.