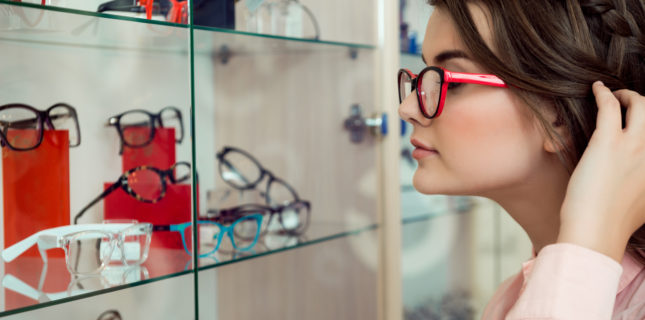 Hot Looks for Spring + Summer 2019
Spring is sprung and consumers are looking toward summer fun and sun(wear), along with fresh and fashionable everyday glasses. The trend spotters at The Vision Council's Eyecessorize.com share the top eyewear looks they've seen on the runways and on the hottest celebs this season. To make sure your frame selection reflects the season's top trends, here are three key trends to address when purchasing product for your business.
Tip: Vibrance is among the looks leading the way with neon blues, greens, yellows, reds, and oranges.
3The trend spotters at Eyecessorize.com see three top eyewear looks for Spring and Summer
TREND #1: UNIVERSAL CONNECTION
COLORS: Earthy tones of burnt oranges, coffee browns, and forest greens combine with "coastal" colors–sandy beiges, sky blues, and sunny yellows.
SHAPES: Influenced by both global cultures and the retro era, popular silhouettes range from chunky rounds, to demure cat-eyes, larger squared-off aviators, big-time squares, and studious rounds.
DETAILS: Elements are taken literally, as seen in flora and fauna prints and appliques, animalistic patterns, woodsy textures, and leather materials. They are complemented by ombre effects reminiscent of watercolor, scalloped edging, and colored lenses in hues inspired by the outdoors
TREND #2: CREATIVE UPHEAVAL
COLORS: Vibrant colors shine in neon blues, greens, yellows, reds, and oranges with dashes and flashes of jet blacks, crisp whites, metallics, and softer shades pink, purple, and creamsicle hues balance it out.
SHAPES: Standout silhouettes–geometrics, exaggerated cat-eyes, and big rounds–plus athletic looks with contemporary touches, including funky shields, reimagined aviators, and chic wraparounds.
DETAILS: Tinted and flash lenses in a range of colors, plus translucent frames, layered materials, cut-outs, gemstone embellishments, bold brow-bars, and flat lenses. Add to that a broad range of patterns, including polka dogs and rainbows.
TREND #3: ECLECTIC + EVOLVED
COLORS: Understated but edgy, the palette includes basic blacks, grays, whites, nudes, silvers, and golds, with statement colors of bright yellows, reds, blues, and greens.
SHAPES: It's all about precision and previously unseen looks in half-rounds, triangles, and bucket-like cat-eyes mixed with rounds, streamlined cat-eyes, oversized shields, plus clean squares and rectangles.
DETAILS: Rhinestone-encrusted finishes, glitter galore, slick glossy looks, reflective lenses, industrial wire constructions, plus double and floating bridges bring an air of futurism to this selection
For more on eyewear fashions and trends, check out www.eyecessorize.com