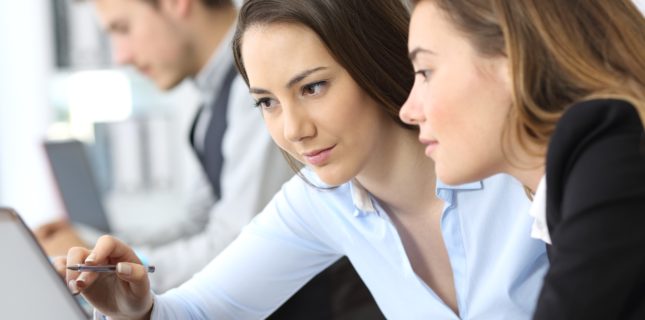 Six Ongoing Training Strategies
Scheduling ongoing staff training has never been more important. While fitting it in can be a big challenge, there's also a definite payback to ongoing training.
Tip: "We close for lunch every Tuesday for staff time. The fourth Tuesday of the month is totally geared toward training."
24%Companies with comprehensive training programs have a 24% higher profit margin than those that don't.
According to the Association for Talent Development, companies that offer comprehensive training programs have 218% higher income per employee than companies without formalized training. They also have a 24% higher profit margin than those who spend less on training.
To provide you with a little fresh thinking for your 2020 staff training plans, here are a few savvy strategies employed by six of your peers.
1. VIDEO FOR NEWBIES: Training younger staffers can be a challenge. Gary Kaschak, ABO, Sterling Optical franchisee in North Wales, PA, suggests: "Since they've grown up with YouTube, Snapchat, and live-streaming, "the product-centric, consumer-friendly videos used in the waiting room are perfect training tools for them."
2. ORGANIZING MEETINGS: Monica Larimore, ABO, optical coordinator, Eagle Vision & Eye Clinic, Longmont, CO, reports, "We have monthly optical meetings. They're very organized. We have lists, etc., to make sure everything is clear, and everyone is on the same page. That's especially important for young employees."
3. DAILY SESSIONS: Mario Gutierrez, O.D., owner, Vision Source Alamo Heights, Alamo, TX, says: "A daily huddle is great. We'd go over who was coming in and what we'd be working on. It's informal and ongoing training, especially important for younger staffers."
4. WEEKLY MEETINGS: "I've always wanted for everybody to overlap," says Laura Miller, O.D., owner of Northwest Hills Eye Care in Austin, TX, "so in our office we all meet together. We close for lunch every Tuesday for staff time. The fourth Tuesday of the month is totally geared toward training. Everybody is part of it so that everyone can understand. Other weeks we may, among other things, have reps come in and talk to staff."
5. MONTHLY MEETINGS: "It's a great way to do training," agrees Eric White, O.D., founder of Complete Family Vision Care Optometry in San Diego. "We have monthly lunch meetings with different reps. They bring lunch and for about 45 minutes they talk to staff and doctors about what's new. I have found this to be a great learning tool…and we all get lunch!"
6. FUN + GAMES: New Look Eyewear, with 80 stores in Quebec and Ontario, won a Transitions Optical Best in Training Award in part by organizing inter-active trivia games about Transitions based on Who Wants to Be a Millionaire and Jeopardy. Played at weekly meetings, they made product training fun.
How often do you meet for staff training, and what time of day works best? Tell us and share in the conversation on Facebook here.