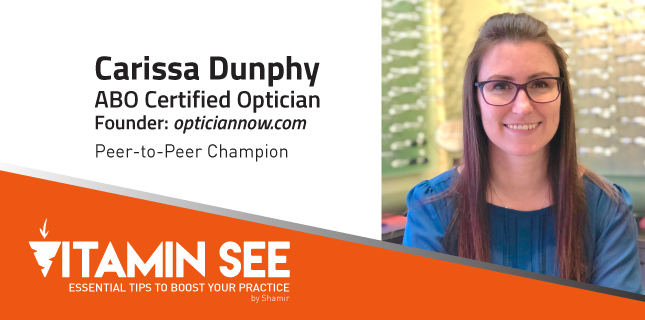 End-of-Year Sales
An ABO-certified optician and founder of Optician Now, I've been working in Optometry since 2008. I am currently with Monroe Vision Clinic in Monroe, WA, and I founded Optician Now (OpticianNow.com) to serve as a resource platform to speak up and be a helpful resource for those within the industry.
This time of year, people have benefits to use and flex and/or HSA dollars to spend. That's an easy sale.
If they don't have a high-benefit allowance, in some whole dollar plans, lens and frames can be split over two years of benefits. One is used for the frame in December, and on January 1st, the next year allowance can be used for lenses. This can vary by plan, but it's worth being aware of popular plan details and restrictions.
If a patient doesn't have the resources, and they really want to get the glasses, you could offer a financing option such as Care Credit. This is very easy to set up in an office and easy to process transactions.
Don't forget about frame sales! This could be a whole additional article, but having a sale is a great way for patients to get a pair when their benefits are exhausted… or just because they want another pair.
Future planning
Start out with the basics–does the patient have a back-up pair? If they wear contact lenses, do they have a current pair of glasses that they can see in? Any patient who needs refractive correction should have a back-up pair just in case.
If someone loves something but just isn't ready to purchase, note the frame, lens options, measurements, and out-of-pocket cost in their chart. Have them take a selfie of them wearing the glasses, if they would like to. That way, they will see the photo over and over again in their phone which will remind them of the glasses.
I can't tell you how many times I have had a patient call back sooner rather than later to order the pair we noted. With all of the information noted, payment can be quickly collected over the phone, and the patient doesn't need to come in again just to order.
One thing that can also lead to a sale is to inform the patient of when their benefits renew. Whether they renew in one month or six, the patient should know when.
Sometimes they say they don't want to wait until then and will buy a second pair now. Sometimes they say they want me to call them right when they renew so they don't forget. In this case I will set myself a future reminder in our patient software system. That way, they will come in after I call and remind them.
The point? Start them on the right train of thought as the new year approaches.