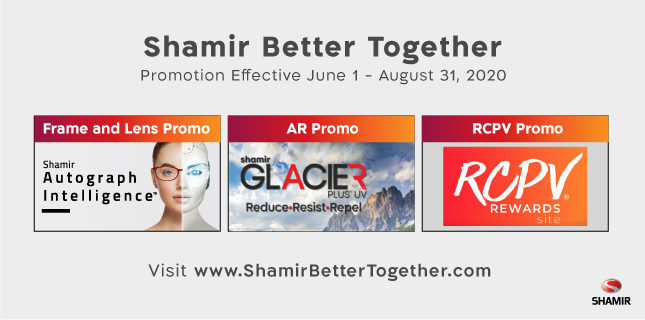 New Needs… Identifying changing needs and meeting them with new offerings
COVID-19 has had a profound impact both on your business and the patients in your practice. With its history of innovation, Shamir Insight continues to be an important partner in your recovery and ongoing practice success.
Known for its passion for research, Shamir has combined its already impressive body of in-depth research with the results of its just-completed study of more than 950 consumers. The result? A deep dive into behavioral changes and visual needs related to the COVID-19 pandemic that is translating into a number of new solutions for patients and practices alike.
Tip: It's a great opportunity and is one of many ways Shamir is focusing on helping you and your patients through these challenging times.
6the number of leading frame companies partnering with Shamir in the new

ShamirBetterTogether.com

practice recovery program
STIMULUS PACKAGE
The first of several programs that are part of Shamir's critical 90-day restart program for ECPs, its Better Together stimulus package is being launched this week. Designed in partnership with leading labs and frame companies, it encompasses several new lens packages, offered in partnership with several frame companies, to assist you on the road to recovery and in alignment with changing patient needs.
Here's how it works. Purchase a pair of Autograph Intelligence Progressive lenses or Shamir Attitude III Single Vision wrap lenses, along with a qualifying frame from one of our Partnering Frame companies, and receive another frame from that company, along with a qualifying Shamir lens for free.
FRAME PARTNERS
Shamir has partnered with the following frame providers for this promotion: Classique Eyewear, De Rigo REM, Europa Eyewear, Imagewear, Lafont, and L' Amy America. For more information on their promotional frame packages, you can contact your preferred frame provider from the choices above and check out the details at www.ShamirBetterTogether.com.
For more on partnering labs, along with information about other lab-related offerings, please go to: https://www.shamirlens.com/bettertogetherlabs.
This promotion began June 1 and will run through August 31. It's a great opportunity and is one of many ways Shamir is focusing on helping you and your patients through these challenging times.
Check in with vitaminsee.com throughout the month as we share important news about how Shamir has helped first responders, plus what its soon-to- be released whenvisionmatters.com program means to you as you work to rebuild.
Tell us about some of the steps you're taking to rebuild and share in the conversation on Facebook here.