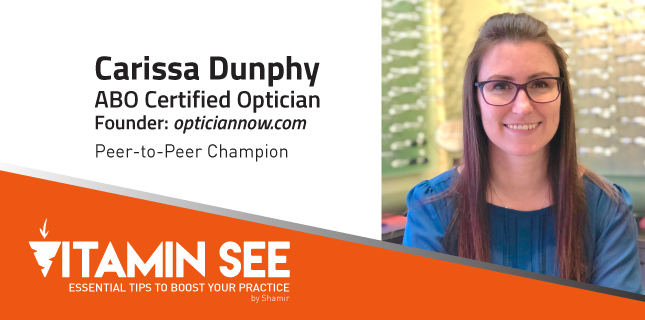 Autograph Intelligence… Throw in a Second Pair and Build a Future
I'm an ABO-certified optician and founder of Optician Now. I've been working in optometry since 2008 and am currently with Monroe Vision Clinic in Monroe, WA. I founded Optician Now (OpticianNow.com) to serve as a resource platform to speak up and be a helpful resource for those within the industry.
Speaking of helping the industry, the ShamirBetterTogether.com program does just that. Shamir has partnered with six frame companies along with a select group of partnering Shamir labs, and here's how it works: Purchase a pair of Shamir Autograph Intelligence™ progressive lenses or a pair of Shamir Attitude III Single Vision™ wrap lenses, along with a qualifying frame from partnering frame companies, and receive an additional free frame from the same frame company with one of Shamir's lens designs for free! I've found that patients are hooked on the second pair of lenses they got for free in the promotion.
MY EXPERIENCE…
In case you haven't heard of or thought about how this Shamir promo can help your office, there's still time to jump in. Based on my own experience, here's why you should.
It is a remarkable way to help your customers. With six frame companies and 29 labs participating, odds are that your office already works with some and you don't need to do much, if anything, to get going. Read the details and how to sign up at ShamirBetterTogether.com.
A key point I want to mention is that the first pair the customer purchases CAN be a VSP job, meaning they can reduce their out-of-pocket by utilizing insurance and then get the second for free.
Here are a few more of the important details I've found along the way: The customer can use their own frame or choose any frame even if it's not participating. The lenses are bogo. Another perk is that the participating frame companies are also doing a bogo, so the two combined make the second pair free.
The frames are ordered and all of them drop shipped to the lab. This saves human labor in receiving and then sending to the lab, ensures the accounting is in order, and, with the second frame free, it also keeps frames on the board. My office started out with whatever our current inventory was. After two weeks of the promo, we ordered more frames (of participating brands) to have on our boards to increase the selection for customers. We quickly lost count of how many bogo's we did, and we don't go a day without a bogo.
HOW I…
I reorganized all of the bogo frames near each other and put up small signs near those areas about the deal. A lot of people bought. A few days later, I sent out an email to all of our patients about the promo and many more people bought. Many people want to talk about the promotion, but some just want one pair. I haven't been too pushy on selling the participating brands (because they can still get the lens bogo), but if they choose one of those brands, I definitely mention the promo and that they can get a second pair for free.
There are so many ways the free lens can be applied for the customer, but I have my favorites. My favorite is the second pair being the Shamir WorkSpace™ lens. Everyone spends so many hours on a computer, yet many have not had an occupational progressive. Every person who tries it loves it and wonders how they ever did without. This combo is a surefire way to have future repeat sales on Shamir Computer™ and WorkSpace™ lenses.
My next favorite free second lens is the Shamir Attitude III® progressive as a sun lens. To many customers, having a pair of prescription progressives is a luxury. They all want it, and now they can have it! The customer is happy to pay just the polarized cost because it's a steal.
The result? Another happy customer who is thankful for the promo. That customer is also highly likely to return for the incomparable Autograph Intelligence™ Lens and is now hooked on the second lens they got for free.