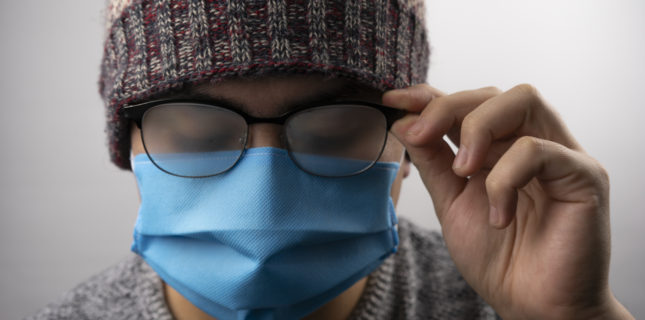 Fight the Fog
CNN, The Wall Street Journal, Good Housekeeping, Science Times, The Daily Beast, The Verge…
And the list goes on of news outlets covering how to prevent eyeglasses from fogging up while wearing a mask.
In a recent market research study surveying 1,000 consumers, 80% said that their glasses sometimes to always fog up when wearing a mask. Plus, more than 40% of respondents found the fog to be disturbing to their vision.
So, amid the plethora of new obstacles that Covid-19 has presented to the public, there's one that you can truly help patients prevent (and one that's top of mind for consumers): lenses fogging up.
Enter Shamir's revolutionary lens coating, Glacier™ Anti-Fog, designed to prevent the backside lens surface from fogging up by absorbing the fog that accumulates, providing wearers with clear vision when it matters most.
How does it work? The coating features Duplex Technology, achieving the benefits of both an anti-reflective coating on the front side of the lens, and a permanent anti-fog coating on the backside of the lens.
With standard coating, water droplets accumulate on the surface. When this happens, light scatters for the wearer—causing an uncomfortable, disorienting, and even dangerous disrupted line of sight. With Shamir Glacier ™ Anti-Fog, the water droplets are absorbed into a thin, smooth layer.
The result? No scattered light, and absolutely clear vision for the wearer.
The coating originally launched to hospitals in saturated areas of the Covid-19 pandemic. It is now widely available through two new labs: Central One Optical in Ohio, of The Network of Labs, including R.D. Cherry in Michigan, Homer Optical in Maryland, Virginia, and Pennsylvania; and Interstate Optical Ohio, the Interstate Optical Lab Group, including Interstate IN, LensTech, and GK Optical.
Eyecare professionals are now able to use their customer's choice of frames for fitting Glacier Anti-Fog with Duplex Technology.