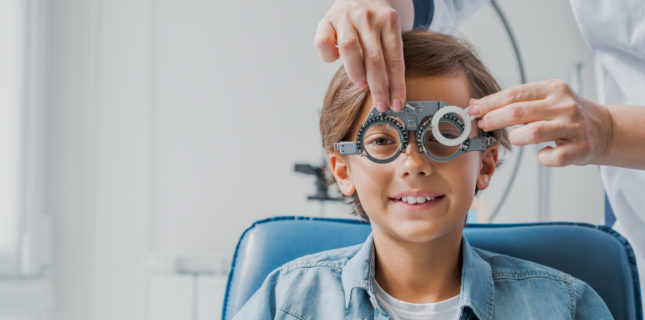 Back to School…Kinda, Sorta, Maybe
No question this is a year for the books. And speaking of books, 'tis the season—traditionally anyway—for promoting and scheduling back-to-school eye exams. The fact is that folks in optical know a back-to-school eye exam is important, but most parents do not.
Even vision screenings, though according to the AOA they miss up to 75% of vision problems, were better than nothing. With distance learning currently the norm for many of the nation's school-age children, that-often-first-step toward being treated for vision-related issues may be missing this year.
That makes it more important than ever to remind parents via social media and on-site signage about importance of and symptoms surrounding vision problems in young children.
Symptoms To Watch For
To give you some fresh fodder for those postings, here are some of the signs a child is likely having eye problems, as presented by the AOA.
•Physical signs: headaches, excessive blinking, frequent eye rubbing.
• Visible signs: covering an eye to read, turning the head to one side, or holding the book far away or up close.
• Behavioral signs: Short attention span, avoiding close-up activities like reading, problems remembering what's been read.
Pre-appointment Prep
Encourage parents to schedule that appointment for early in the day. When a parent does make an appointment for their young child, make sure you tell them to prepare their youngster by explaining the exam before the appointment and answering the child's questions honestly. For example, the AOA suggests you liken the eye chart to a puzzle and instruments to a kaleidoscope.
Frequency Facts
Staff may wonder how often the practice is likely to see children experiencing various vision issues. To help, here are some stats courtesy of Prevent Blindness:
• Amblyopia: 2% under age 6
• Strabismus: 2-4% under age 6
• Myopia: 4% under age 6; 9%, ages 5-17
• Hyperopia: 2% under age 6; 13% ages 5-17
• Astigmatism: 15-28% ages 5-17
• Visual Impairment/blindness: 3% under age 18
How are you promoting back-to-school exams this year? Tell us and share in the conversation on Facebook here.