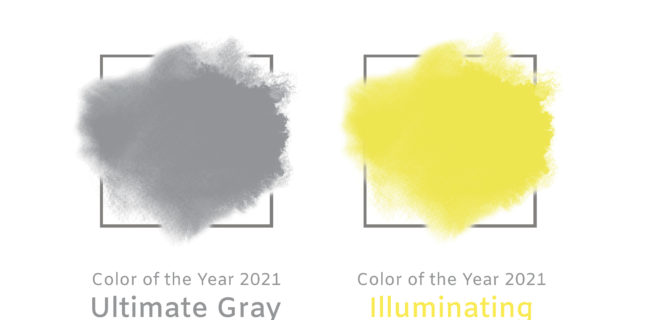 Colors of 2021
Every year at this time, Pantone Color Institute announces its color of the coming year. For two decades, the Institute has been highlighting top seasonal runway colors, forecasting global color trends, and advising companies on brand visual identity.
Tip: They represent a marriage of color that conveys both hopefulness and strength.
2ndThis is just the second time Pantone has named two tones as Color of the Year.
Since so much in 2020 already seems different, it makes sense that next year's color is not one, but actually two colors. They are PANTONE 17-5104 Ultimate Gray + PANTONE 13-0647 Illuminating, two colors that underscore how different elements come together in support of one another and express the mood of the times. "What we were trying to demonstrate was how you have different elements that come together, and it's that coming together that expresses the strength and the hopefulness," says Leatrice Eiseman, executive director of the Pantone Color Institute.
"Practical and rock solid but at the same time warming and optimistic, the union is one of strength and positivity," explains Eiseman. "It is a story of color that encapsulates deeper feelings of thoughtfulness with the promise of something sunny and friendly. A message of happiness supported by fortitude. Practical and rock solid, but at the same time warming and optimistic."
This selection also represents the very first time an achromatic shade (Ultimate Gray) has been picked. Eiseman does, however, point out that it is a mid-shade of gray not a dark, heavy one. Regardless, it's also only the second time two colors have been selected instead of just one.
To show you're in the know, consider including mention of these colors of the year in your social media. You can also order swatches from The Color Institute or actually add pops of these colors on a frame board or in a special on-trend display.
How does your staff keep up with current colors? And, how do you communicate them to consumers? Tell us about it and share in the conversation on Facebook here.