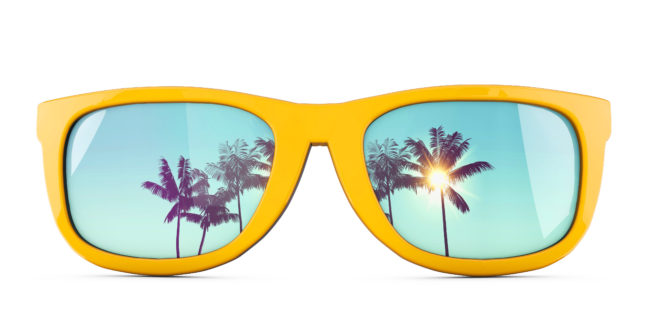 National Sunglasses Day
Sunday, June 27, is National Sunglasses Day.
That means it's time to celebrate sunwear and remind patients about the importance of protecting the eyes against too much exposure to UV.
The Vision Council (TVC), founder of NSD, wants to help you celebrate in a big way.
Check out the downloadable materials (shown below) that are available from TVC at nationalsunglassesday.com. TVC also suggests posting on your social media channels using the following:
• Official hashtags: #SunglassesSelfie + #NationalSunglassesDay
• Tag @TheVisionCouncil on Facebook + Instagram
• Tag @OpticalIndustry on Twitter
SUNWEAR REPORT
Just this week, TVC released its 2021 Sports Sunglasses Report. Among the questions it answered are:
• Who is wearing sunnies? More than half (55%) of adults in the U.S. wear sunglasses of some sort…13% wear Rx sunwear and 42% sport plano sunglasses.
• What colors are in style? When it comes to frames, 49% say black is best. In lenses, however, gray garnered the most votes (23%), followed by brown (21%). And fully 20% of respondents report they're currently sporting mirrored lenses.
The fact is that every day can be a "sunny" one in your practice when you present both everyday and sun options to patients looking for new eyewear.
Tip: Whether it's for wearers of single vision lenses or PALs, Shamir's Attitude III Sport and Fashion lenses are excellent sunwear solutions.
55%…of adults wear sunglasses, according to The Vision Council.
A SUNNY "ATTITUDE"
Whether it's for wearers of single vision lenses or PALs, Shamir's Attitude III Sport and Fashion lenses offer great sunwear solutions.
They're designed to address the specific visual needs of fashion and sport prescription sunwear in a broad range of frames…from big aviators to small rounds, and from flat to wrap.
Whatever your patients' wants and needs, National Sunglasses Day is the perfect time to address sunwear with them. It's also a good opportunity to review and perhaps update how your practice—doctors and staff—discuss summer eye protection with those patients.
Are you celebrating National Sunglasses Day in your practice? If so, tell us about it and share in the conversation on Facebook here.
Comments are closed.