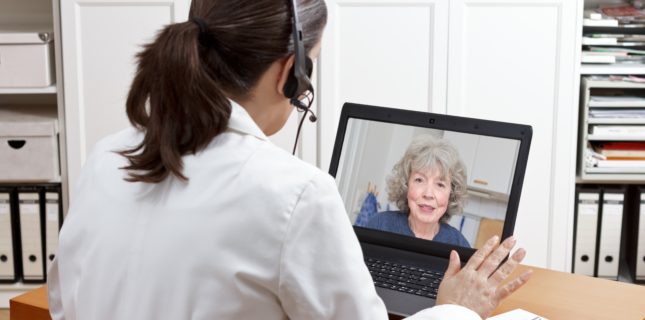 Virtual EVERYTHING
Purchasing online has skyrocketed. According to Digital Commerce 360, "More than 10 years ago, e-commerce accounted for 5.1% of total retail purchases. Online sales now account for 21%, a striking jump from 16% in 2019."
As the pandemic took hold, a lot more than buying moved online and, in many ways, the world went virtual. In optical, that could certainly be seen in the emergence of telehealth. According to the Vision Council's March 2021 Eyecare Provider Insights Survey, 41% of respondents were using telehealth in their practices.
Tip: Shamir Academy provides educational opportunities to learn about product and best practices.
21%…of all retail sales are conducted online.
CURBSIDE CONSULT
While traditional telehealth services aren't increasing, expansions on that theme are on the rise. For example, at Colorado Retina, with five locations in the Denver area, marketing director Carol Kendall explains, "In addition to offering virtual telehealth appointments to established patients, we also offer curbside consult services as a benefit to referring optometrists. Referring O.D.s are now able to text, call, or submit 'curbside consult' requests through our website."
THE VIRTUAL REALITY
Virtual is also part of the in-person experience today. From the moment patients pull into many practices around the country utilizing phone or virtual check-in, such as parkinglotcheckin.com, the virtual experience now carries all the way through to the post-visit follow-up.
Here, we outline just a few examples of the many virtual options now available to ECPs.
Take HR, for example. Service providers like Mineral offer HR and compliance expertise with live experts and handbooks plus other document-building features.
Training moved totally online (can you spell Z-o-o-m?) once the pandemic began and continues to remain virtual in many practices.
Shamir's newly redesigned website, www.shamir.com offers multiple avenues to help practices with that.
First, its structured learning experience, branded as Shamir Academy, provides educational opportunities to learn about product and best practices. Second, a personalized portal within the Shamir Personal section on the site houses all Shamir training and support tools and assets in downloadable format.
ADDITIONAL RESOURCES
Vendors are key sources, but don't forget to check with professional organizations as well—like the American Optometric Association—for virtual training and other services, as well as your alliances and buying groups. For example, IDOC recently launched a monthly eConnect webinar series, and Healthy Eyes Advantage just announced its Tech Practice Booster suite of services that includes telehealth from EyecareLive and tele-audiology in partnership with Your Hearing Network.
What virtual services have you built upon since the early days of the pandemic? Tell us about them and share in the conversation on our Facebook page here.