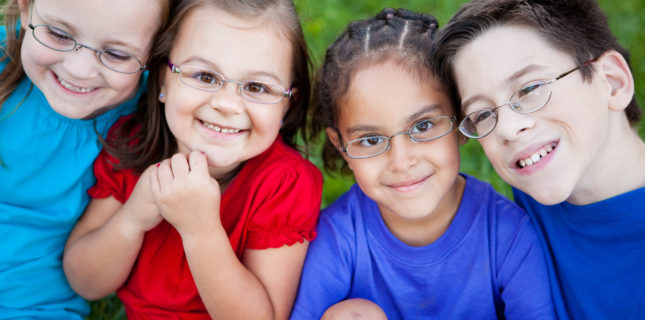 Back-To-School Basics
It may only be July, but it's already time to focus on children's back-to-school needs. And it's never been more important. Last year, Covid curbed what would have been a before-school exam for many children. Even in-school vision screenings, though of limited benefit, were curtailed as in-person education was replaced by at-home learning.
Here's a look at everything from startling stats to new programs designed to help you promote the season ahead.
Tip: The AOA's "Eye Deserve More" back-to-school campaign includes a toolkit for ECPs.
2X…The average child doubled his or her screen time for the year ending May 2020.
RECENT FINDINGS
The simple fact is that, though 20% of preschool kids in the U.S. have some sort of vision problem, the Centers for Disease Control and Prevention finds that under 15% of them have had an eye exam.
Last year's move from in-class to virtual learning—and the resulting rise in screen time—has increased the need for complete eye exams. According to Qustodio, a global device-usage tracking company, the average child between the ages of 4 and 15 actually doubled his or her screen time for the year ending May 2020.
According to the American Optometric Association (AOA), this increased use of digital devices "has manifested as increased myopia rates, headaches, eye fatigue, reduced ability to focus, and reduced reading comprehension."
That's certainly the case for kids already in school, 25% of whom wear some form of corrective lenses (meaning both spectacle and contact lenses).
NEW MESSAGING
The past year has so impacted youth and young eyes that the AOA and several industry partners conducted a webinar earlier in July titled, "Seeing Beyond the Pandemic: Eye Health, Vision, and Learning." Hosted by Education Week, a non-profit news group, it still available for on-demand viewing right here and features several ECPs.
Erin McCleary, O.D., who practices at Advanced Optometric Care in Plainville, CT, addresses device usage in the webinar: "Technology is great for so many things, but when there is measurable, negative impact on our physical and ocular wellbeing and visual function, we have to take stock of that and course-correct."
THE CAMPAIGN
So, how can you underscore the importance of eye care to young families in your practice? Fortunately, the AOA's "Eye Deserve More" back-to-school campaign just went into full swing and includes a toolkit for ECPs with social media posts, patient newsletters, handouts for kids, and more.
Tell us how you remind families in your practice about the importance of back-to-school eye care and eyewear and share in the conversation on Facebook here.