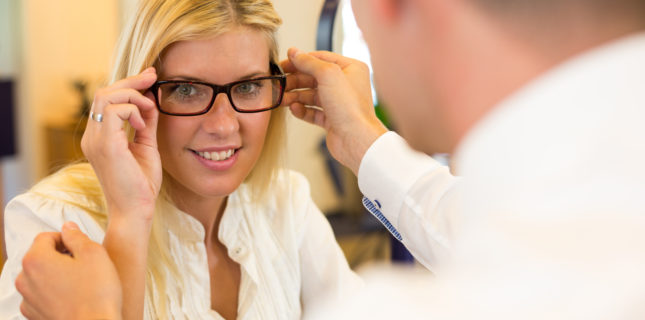 Peer-to-Peer Champions Discuss the New Normal
Year-over-year revenues of small businesses dropped 52% in the second quarter of 2020. That's the startling finding of the Small Business Financial Health Survey, conducted by Biz2Credit. One plus? Covid-19 forced businesses to become flexible and, in the process, try new things. Optical is no exception.
Some of those newfound procedures have actually turned out to be worth keeping. To learn more about those keepers, we spoke with four of Shamir's Peer-to-Peer Champions. Here's what they had to say.
Tip: "It's wise never to get too comfortable in our ways since time changes everything. Survival is dependent on our ability to adapt."
52%…How much revenues dropped YOY in Q2 2020.
SANITIZING + SHOPPING
Carissa Dunphy, ABOC
opticiannow.com, Seattle, WA
"One thing we implemented during Covid was for the optician to shop for the customer and to not allow customers to browse. While we are now allowing customers to browse, we will continue to still shop for the customer whenever possible because it is a much more efficient selection process.
"My optical's protocol is to sanitize all frames after customers have handled them. Our team is confident that we will continue sanitizing frames long after Covid is over. We invested in a larger, high-capacity UV germicidal unit that is very efficient and doesn't take much time. Why didn't opticals sanitize frames before?"
CURBSIDE + APPOINTMENTS
Laura Miller, O.D.
Northwest Hills Eye Care, Austin, TX
"During the height of Covid, many changes were made in many practices, including ours. A few of the changes were really good and have remained even after the height of Covid has ended. We are still doing car drop-offs for contact lens pickups. Patients text us when they arrive, and we send a staff member to deliver their diagnostic lenses or their annual supply to them at their car. Patients love this service, so it has remained.
"We are also continuing to schedule appointments for dispensing glasses. We began scheduling this to limit the number of people in the office at one time, but have found that this lets our staff to know when someone is coming for a spectacle dispense.
"This allows us to have everything ready for them and spend the time needed to [review] their glasses options and make sure their lenses are working well. When patients used to just drop in for a dispense, it could really throw off the flow of the optical department."
TRAYS + TRANSITION
Rob Szeliga, O.D.
Spring Hill Eyecare, Spring Hill, TN
"We are still asking patients to not put frames back on the board, but to keep them in a tray until we disinfect them with our UV cleaner. And, in terms of technology, we are loving our Shamir Spark Mi Up. It's a great piece of technology for patients.
"During Covid, we did everything by appointment in the optical. We are still offering appointments, but fewer are scheduling them."
PRIORITIES + PATIENTS
Lisa Veal, O.D.
Eyecon Optometry, Mission Hills, CA
"I think it's wise never to get too comfortable in our ways since time changes everything. Survival is dependent on our ability to adapt.
"Fortunately, sanitation protocols have already been in place for our optometric offices. We have just had to take it up a notch, implementing more frequent cleaning procedures and the sanitation of some high-touch surfaces we never really thought to sanitize before, such as frames. These additional procedures will likely remain in place indefinitely.
"Many offices have had to reevaluate their business priorities, too. We have maintained a consistently busy schedule, but with a reduction in workforce candidates, it has been imperative to try to maintain a happy, low-stress work environment.
"One of the main adjustments for us has been to reduce the number of patients we see on a daily basis, but in order to maintain a consistent income, we have had to exchange quantity for quality. I hope this adjustment is one that will stick around as my work-life's goal is to work smarter not harder."
Are you maintaining any processes or procedures that your practice adopted during Covid? If so tell us about it and share in the conversation on Facebook here.