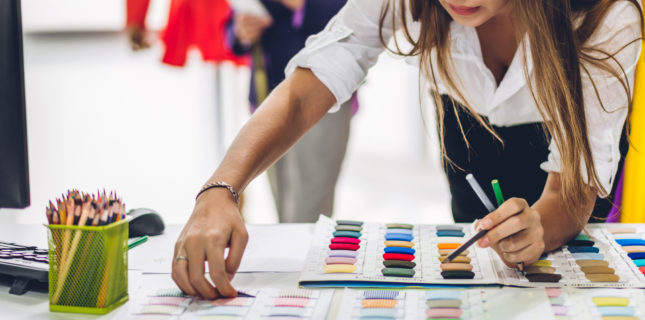 Fashion FYI
Glasses aren't worn in a vacuum. That's one of many reasons you should stay on top of current color and style trends in the fashion arena. To help, we're sharing a bit about what's trending this fall as well as some sources for tracking trends in your own practice.
Tip: There are lots of free or inexpensive fashion info resources, including blogs, shopping apps, services like Pinterest, Instagram, and more.
2Some forecasters like WGSN look as far as two years ahead.
KEY TRENDS
Here's a quick look at some of the trends popping up this fall. Traditionally seen on the runway, many of the looks, and shows featuring them, have taken to virtual runways in the past year.
• Opulence. "'20's meets '80s opulence." (Harpersbazaar.com)
• Revival. "'90s revival, denim…, snake prints, checkerboard, punchy florals…and a ton of pale lilac and lavender." (purewow.com)
• Saturation. "Color play is off-kilter, slightly skewed, and unexpected—a little like life itself. It's mustard meets lemon…, bubblegum pink and marigold…, rust and lavender. Complementary and secondary hues of the color wheel are all mixed up and topsy-turvy." (Harpersbazaar.com)
• Animal prints. "They continue to be an on-again, off-again trend, but right now we are seeing chic peek-a-boo prints, particularly with nods to black and white…think cow, zebra, and giraffe prints. Influencers, fashion designers, and celebrities have been taking a walk on the wild side with this trend." ("Good Morning America," Aug. 7, 2021)
TOP RESOURCES
It's easy enough to simply Google phrases like "Fashion Fall 2021." There are, however, lots of seasonal resources that fashionistas depend on. Two of the better-known sources are:
• Pantone Color Institute that forecasts colors in several areas, including fashion. pantone.com
• WGSN, a leading fashion trend forecaster, that looks as far as two years ahead. wgsn.com
ACCESSIBLE INFO
There are also lots of free or inexpensive fashion info resources. They include:
• Blogs like fashionvignette.blogstop.com.
• LIKEtoKNOW, a top influencer shopping app, at LIKEtoKNOW.it.
• Pinterest (ampfluence.com/top-fashion-pinterest-accounts-to-follow/) and Instagram (check out @fashionsnoops)
• The Vogue Runway smartphone app, apps.apple.com/us/app/vogue-runway/id289380413
• Women's Wear Daily offers multiple resources in a variety of media at wwd.com.
Do you have a favorite source for fashion info? If so, tell us about it and share in the conversation on Facebook here.