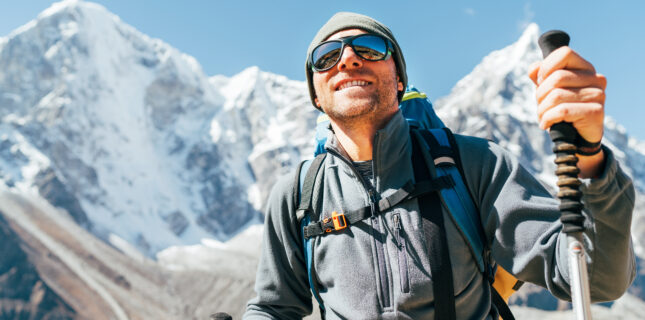 8 Winter Eye Health Factoids
Increasing numbers of consumers understand that they should wear sunglasses outdoors on a bright sunny day. Many even know something about blue light and summertime reflections. When it comes to winter, however, most come up dry. Literally.
To help, here are eight easy-to-digest winter eye health factoids to share with patients in the office or on social media.
Tip: 85% of UV rays from the sun can be reflected upward from snow, compared to just 7% from green grass and trees.
5%Exposure to UV radiation rises almost 5% every 1,000 feet above sea level.
1. THE WINER SUN…
During winter, the sun is actually lower in the sky and at an angle that results in more exposure than during summer months.
2. SUN + SNOW…
According to The Vision Council, because snow is so reflective, up to 85% of UV rays can be reflected upward from it, compared to just 7% from green grass and trees.
3. HIGHER ALTITUDES…
Partly because the air gets thinner at higher altitudes, exposure to UV radiation rises almost 5% every 1,000 feet above sea level. What if someone is skiing at 10,000 feet, for example? According to skincancer.org, "At that altitude, UV radiation may be 35% to 45% more intense than at sea level."
4. SHORT-TERM DAMAGE…
As many skiers know, UV rays can cause snow blindness, which is basically a sunburn to the surface of the eyes and can last up to a week.
5. LONG-TERM DAMAGE…
Explain that not all sunless block the same amount of blue light. Add that while most UV is absorbed by the front of the eye (a cause of cataracts), blue light can reach the retina (a major contributing factor to macular degeneration).
6. MEDICATIONS MIX…
Explain why it matters that if, for example, someone is taking certain antibiotics they can experience sunburn to the surface of the eye at least three times faster than someone who is not. Also, that burn occurs fastest in winter.
7. DRY AIR…
The eye is comprised of 99% water. When the air is dry, evaporation is accelerated, so the eye can easily become dry and irritated. Eye drops are the best course of treatment, but a humidifier and even houseplants can help keep more moisture in the air.
8. GLASSES VERSUS CONTACTS…
Some patients may be comfortable wearing eyeglasses more frequently than contact lenses in the winter. In addition to protecting eyes from the elements, they can also help hold heat and moisture close to the eyes.
What information do you share with patients about winter-time vision issues? Tell us about it and share in the conversation here on Facebook.
Comments are closed.