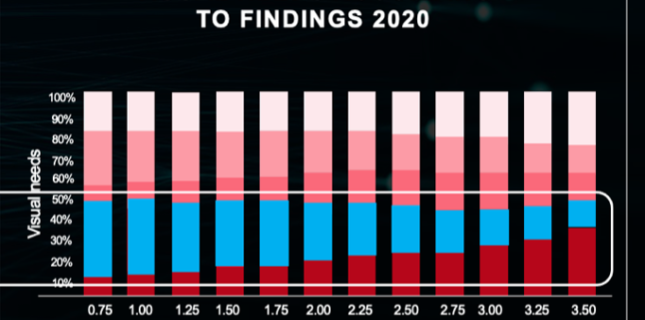 Addressing Your Patient's Visual Age

Visual Age™ refers to the physiological age of the eye. That is, the individual's required add power. It is usually and erroneously correlated to the patient's chronological age.
At first glance, if you'll pardon the pun, that seems to make sense. What doesn't, however, is the fact that most progressive lenses from companies other than Shamir offer patients either a "personalized" lens based mostly on the measurements of their selected frame or a "customized" lens, which is usually based on lifestyle information from questionnaires. This "one design" concept across all add powers means that everyone gets the same design concept.
Shamir saw this as a problem, and its flagship progressive lens, Autograph Intelligence™, overcomes these limitations with the most precisely personalized lens designs available. It has achieved this by examining, and then applying, the different visual behaviors and preferences of presbyopes between the ages of 40 and 80, thus taking their Visual Age into account.
Tip: Autograph Intelligence™ overcomes limitations of traditional progressive lenses with the most precisely personalized lens designs.
40 to 80Shamir conducted extensive research that examined the different vision zones and their usage frequency by presbyopes between the ages of 40 and 80.
THE RESEARCH
Shamir researchers found several key differences among the age groups:
• "YOUNG presbyopes need a good solution for digital reading and support for dynamic vision. Near vision has lower priority, due to reading mainly on handheld digital devices."
• "MODERATE presbyopes demonstrate more balanced needs. All vision zones hold more-or-less equal importance."
• "ADVANCED presbyopes need a good solution for far and near vision, while Switch Distances Frequency™, intermediate vision, and digital reading are lower priorities.
THE GAP
This research also found a gap between what it refers to as the "diversity of today's individual presbyopic needs" and current PAL designs that erroneously correlate to the patient's chronological age. Shamir then analyzed wearer needs at different ages for driving, computers, s
martphones/tablets, printed reading material, along with how frequently different age groups of presbyopes switch distance viewing. They then looked at how those different needs are met at different adds: +1.00, +2.00, and +3.00.
In the graph below, see for yourself what they found when looking at driving/distance (blue), frequent zone switching (yellow), computers/intermediate (purple), digital reading (pink), and near/printed materials (green).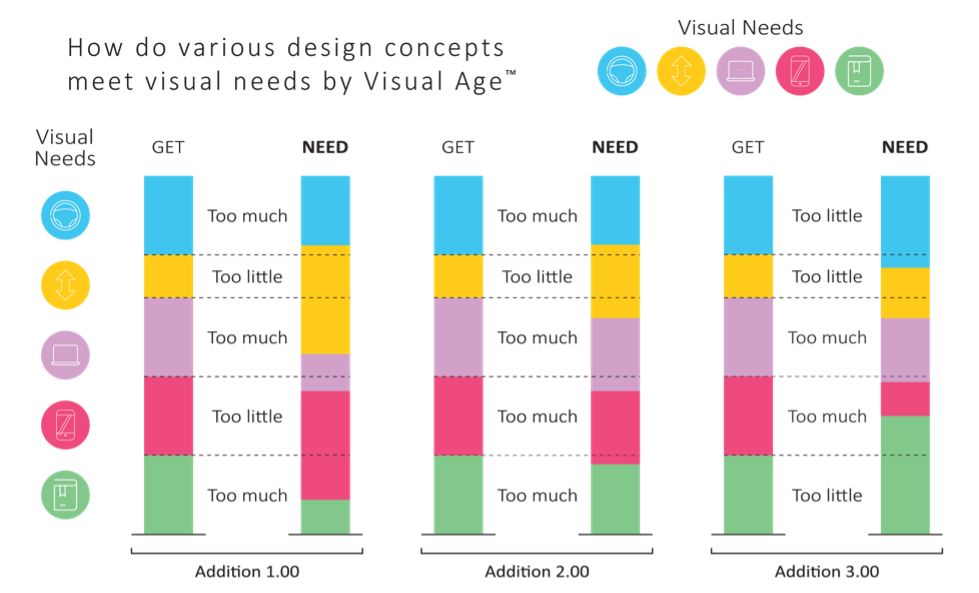 THE SOLUTION
Autograph Intelligence takes all of that into account and utilizes 12 unique design concepts to fit the visual needs required for each Visual Age. Based on its in-depth research, this revolutionary progressive design concept is relevant to the visual needs of all presbyopes–young, mid, and advanced.
Even better, Autograph Intelligence is constantly being upgraded to take changing consumer needs—most recently, increased screen time—into account.

You've no doubt seen the difference for yourself. Tell us about your patient experiences with Shamir Autograph Intelligence lenses and share in the conversation on Facebook here.