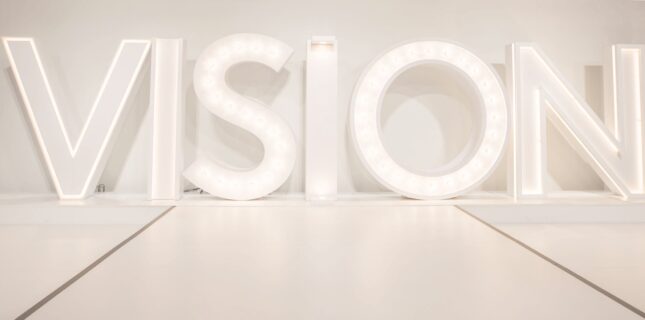 It's A Wrap
For the first time since 2019, the optical industry gathered at Vision Expo East in New York City on March 31. The four-day event brought the global vision care community together for cutting-edge education and an intimate, in-person look at the latest in fashion and technology.
VisionEd, Vision Expo's education program, provided more than 230 hours of education, including classes on topics such as business and patient education strategies to cutting-edge innovation and trends in fashion. More than 360 companies exhibited in several distinct neighborhoods on the show floor.
Tip: Shamir's all-new Expression AR coating raises the signal-to-noise ratio—a balance that defines how well a wearer sees in relation to nearby visual noise.
230The hours of education at Vision Expo East in New York City.
LEARNING + CONNECTING
OptiCon@VisionExpo also returned to the show, with an unbeatable education program and exhibit hall experience for opticians, contact lens practitioners, and ophthalmic allied professionals.
"We were thrilled to see so many of our members in person—doing business, learning, forging new relationships, and connecting with longtime peers," says Mitch Barkley, vice president of trade shows and events at The Vision Council, co-organizer of Vision Expo. "The success of this show directly impacts The Vision Council's ability to fulfill its mission of growing the industry through education, advocacy, research, and consumer education—so, by being here together, we are all helping to elevate the greater industry."
SHAMIR'S RELEASES
Shamir was among the premier exhibitors on hand. The company's show-floor exhibit area spotlighted its two groundbreaking new releases—Glacier Expression AR coating and an update to the Autograph Intelligence progressive lens.
A technological breakthrough, the all-new Expression AR coating raises the signal-to-noise ratio—a balance that defines how well a wearer sees in relation to nearby visual noise—and actually lowers that noise level. This is important because when increased, that ratio, also known as SNR, helps decrease eye strain and fatigue and increase the comfort level of the wearer's visual experience.
It's all about looking better, seeing better, and feeling better. Features and benefits include outstanding scratch resistance and glare reduction, improved aesthetics, up to 70% fewer reflections of light that the eyes are most sensitive to, improved light transmittance and contrast sensitivity, and increased comfort with decreased background noise.
As for Autograph Intelligence, initially launched more than three years ago, the testing doesn't stop, and applying data gathered since then doesn't either. In fact, Shamir has recently advanced the design by expanding the digital zone in order to best meet the needs of wearers in today's tech-driven society.
Vision Expo East may be over, but the excitement generated by Shamir's latest releases is not. Try them for yourself and tell us about it on Facebook here.