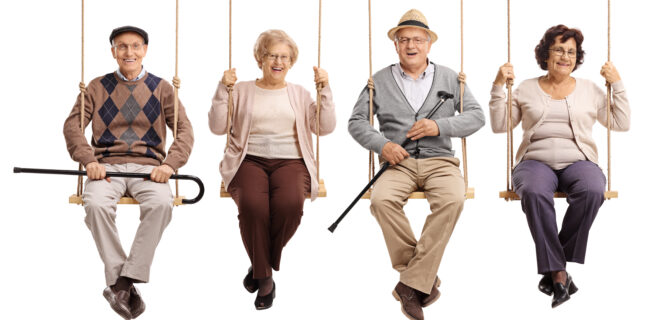 Peer-to-Peer Champions on Marketing to Seniors
The senior market is exploding. And that won't change any time soon. By 2030, 1 in every 5 Americans will be over 65. Just five years later, in 2035, individuals over age 65 will outnumber children for the first time in the U.S. More good news? The 65 to 74 age group has the highest net worth in the country.
SPECIFIC NEEDS
They also have specific needs, including annual eye exams. The American Optometric Association (AOA) recommends annual exams for everyone over 60. That is based on its research, including the AOA Eye-Q consumer survey that found "78% of adults age 55 or older report experiencing some vision loss."
The AOA also makes activity-related recommendations for seniors. When it comes to driving, for example, the AOA proposes that seniors, "Use extra caution at intersections and turn your head frequently; reduce speed and consider limiting yourself to daytime driving; avoid wearing glasses with wide frames or temples as they may restrict side vision; and take a driving course such as those offered by AARP."
GENERATIONAL DIFFERENCES
That being said, generalizations can miss the mark. Here's just one example about how the two groups of seniors—those of the silent generation, born from 1928 to 1945, and baby boomers, born between 1946 and 1964—differ in terms of messaging appeals to them.
• SILENTS. Known as traditionalists, they: respond to traditional marketing vehicles; are not drawn to impulse purchasing opportunities; and, in printed materials, need larger fonts and prefer a single image. They don't, however, want to be addressed as being old or dependent.
• BOOMERS. They are: inquisitive, demanding (and e-manding); looking for facts, not a scripted message; drawn to discounts and bargains; and interested in what you stand for. Don't waste time with puffery or marketing tricks. You'll lose them the moment your message moves from fact and relevance. Do, however, offer them a bargain.
PEER POINTERS
Here's how two of Shamir's Peer-to-Peer Champions tackle the topic of messaging to seniors.
• TECHNOLOGY. Simaan Shini, O.D., at Eye Trends in College Station, TX, suggests talking technology. "They like knowing how a technology is going to help. It makes them not only embrace [it], but speak highly to others." He explains, "Why not have the ability to just leave a set of glasses on that make your life easier versus always going on and off with readers."
• CLARITY. Laura Miller, O.D., at Northwest Hills Eye Care in Austin, TX, emphasizes the importance of AR, especially for older low vision patients. Adding AR helps enhance visual clarity and reduce glare—another benefit to patients that are already sensitive to light."