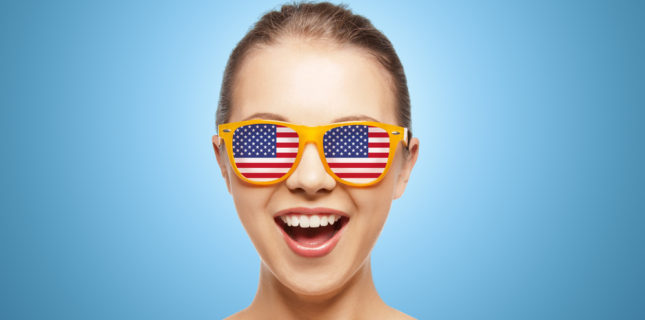 It's time for Red, White, and Blue Merchandising!
How can you celebrate the 4th, and use the occasion to show your patriotism, have some fun, and build your business? Here are some great and inexpensive ways to do all three.
Tip: A photo of Ben Franklin and a pair of readers similar to his are a great backdrop for a red-white-and-blue display of today's fun and colorful readers.
27% of adults in the U.S. volunteer their services either in business or independently
RE-PURPOSE. Get to the local dollar store. NOW. You'll find more red, white, and blue than you will ever need. But think re-use, too. Buy one bright pot in red, one in white, and one in blue. That way you can use them separately throughout the year, whether they're turned upside down as risers for a display or right side up to hold giveaways or even sunglasses in a display.
GIVEAWAY. Take one of those painted pots and fill it with small flags to hand out over the holiday weekend (and then again at health fairs this summer). If you've planned ahead, you could have your name printed on the "flagpole" which makes it do double duty—you're seen as patriotic AND your name is remembered.
ACCESSORIZE. Hopefully you have a few throw pillows in your seating area. If not, buy some. They're the easiest and cheapest way to make quick seasonal or holiday changes. Buy a few red and white pillows or blue and white ones. That says "holiday spirit" without putting you over the top with flags everywhere.
FLAGS. If you have a location that can feature a flag outside or inside near the door, this is the time to have the American one waving. One fun merchandising—and attention-getting–idea is to have other flags, too. A store I frequent has so many different flags that people come by just to see what's up. Literally. Sure they have an American flag, but also 15 or 20 others—including an orange one for Halloween and another shaped like a silver ornament for December.
READERS. Ben Franklin may have thought we'd be celebrating on the 2nd of July instead of the 4th, but, regardless of the date, he is forever associated with reading glasses. That makes this the perfect time to promote them. A photo of Ben and a pair of readers similar to his are a great backdrop for a red-white-and-blue display of today's fun and colorful readers. Another option? Buy a patriotic 4th of July top hat on your dollar-store trip, and place color-coordinating readers in or around it.
CELEBRATE. Do you have a hometown parade or other event? Be sure your practice is part of it. If the event includes food, an easy way to offer a personalized treat is to top store-bought cookies with glasses or an eye "drawn" with a tube of frosting. You can do the same thing with crackers and a tube of cheese. Not super nutritious, but cute nonetheless.
VOLUNTEER. Make sure you and your staff give back to the community around the 4th. What better way to celebrate and say thank you? You won't be alone. In fact, 27% of adults in the U.S. now volunteer through business or independently.
Whatever you do, have fun with the holiday. Get in the spirit, and spread it inside your practice and throughout your town.
How do you celebrate the 4th of July at your location and in your community? Join in the conversation and tell us on our Facebook page here.