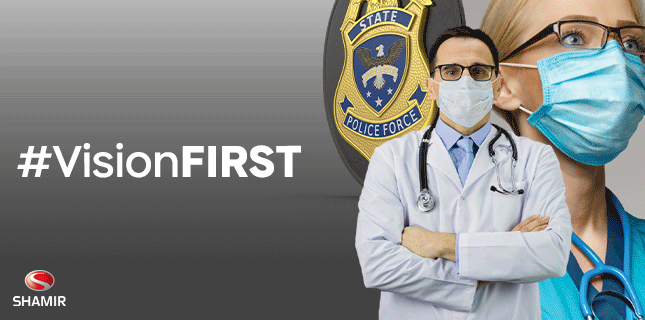 Reaching Out
To help in these difficult times, Shamir is reaching out to communities and customers alike. Here we look at two recently introduced resources…one geared to help first responders get the eye protection they need and the other designed to help ECPs and partner labs grow business while serving critical consumer needs.
Tip: Most patient interaction is on hold, but don't just press the pause button. Press reflect + reset instead.
29the number of Shamir Partner Labs participating in #VisionFIRST
#VisionFIRST
Healthcare workers and first responders are putting themselves at risk to help defeat COVID-19. To help them, Shamir has partnered with participating optical labs to provide complimentary prescription lens designs for safety eyewear and other lens types.
How? By collaborating with optical laboratories that produce Shamir Freeform or Digital lenses and have chosen to participate in Shamir's #VisionFIRST program.
The program is expected to contribute thousands of pairs of complimentary eyewear, with Shamir digital designs, to first responders. "Our hope," explains Raanan Naftalovich, president of Shamir North America, "is to collaborate with as many Shamir Optical Lab partners as possible, increasing the opportunity to provide enhanced vision for those holding the front-line."
Take a look at the list of 29 Shamir Optical Lab Partners participating in the program at www.shamirlens.com/visionfirst. Their commitment to filling the needs of healthcare workers and first responders represents one more very sound reason for you to do business with them, as well.
@VisionMatters
Shamir has conducted an extensive big-data research study with 950+ consumers, and cross-referenced results against 5 million Rx jobs. The reason? To learn how vision needs and behaviors have changed during COVID-19.
The results show a very clear trend for visual needs. For example, while more people are spending time on digital devices, over 40% of consumers surveyed were unfamiliar with the dangers of blue light to the eyes.
As Shamir further drilled into the research, they were able to identify lens solutions to solve the current demands consumers are searching for, as well as a stimulus package to provide patients a higher quality of life.
This research found, for example, that, especially with increased device usage during the pandemic, 97% of customers are great candidates for blue light protection and 90% for workspace and computer lenses. Another problem, and one that's skyrocketed during the pandemic, is fogging lenses when eyeglass wearers have on face masks.
Log onto @VisionMatters.com to review a treasure trove of research focusing on digital eyestrain and other pandemic-related problems along with specific lens solutions that Shamir has to offer. And then to go ShamirBetterTogether.com.
As vitaminsee.com addressed in its June 4 post, the ShamirBetterTogether.com practice recovery program is another result of Shamir's recent research. Designed in conjunction with leading labs and frame companies, it encompasses several new lens packages, offered in partnership with participating frame companies.
What vision problems and concerns have your patients expressed during this pandemic? Tell us about it and share in the conversation on Facebook here.