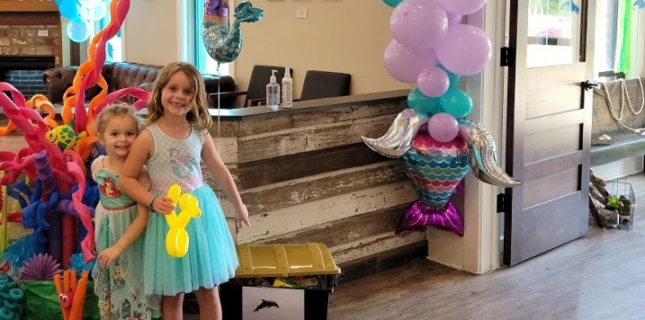 Kids' Week at Spring Hill Eyecare
Peer-to-Peer Champion Rob Szeliga, O.D., talks about the evolution of the annual back-to-school celebration at Spring Hill Eyecare in Spring Hill, TN.
"For the past 10 years at Spring Hill Eyecare, July has been a time for preparing children for the back-to-school season. We wanted to create a special time for children and to let them know that visiting the optometrist is not an appointment to dread.
"What started out as a one-day kids' day grew into a full week for 2021. Each year a theme is selected and the office transforms into a welcoming, fun, kid-friendly place. This year the theme was 'Under the Sea.' There were sounds of the ocean playing when you entered the office into the 'magical eye center under the sea.' Fish and coral welcomed all our guests, along with an octopus, jellyfish, seahorses, sea turtles, dolphins, and, of course, sharks. Of special interest were the pictures of sea animals placed in 'portholes' with verbiage explaining what humans see and what the sea animal sees, complete with visuals for both."
Tip: Create a special time for children to let them know that visiting the optometrist is not an appointment to dread.
2011…The year Spring Hill Eyecare launched its first back-to-school event.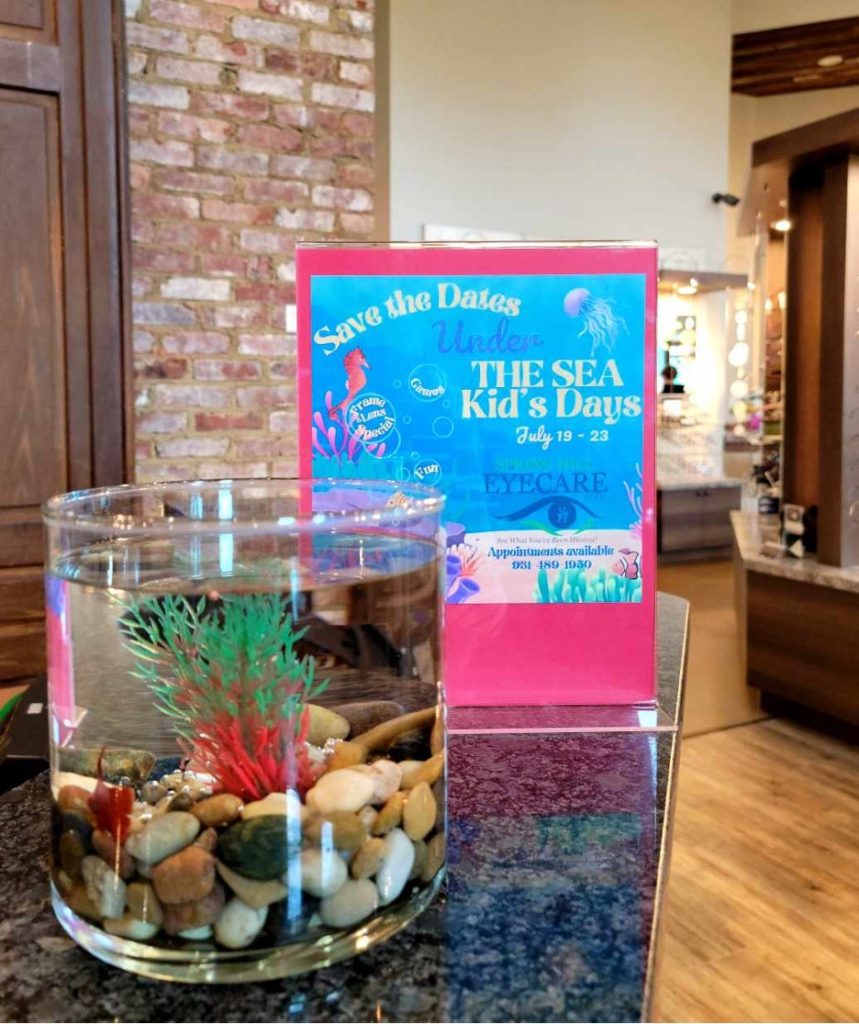 GAMES + FRAMES
"There were games for the children…ranging from a scavenger hunt and sidewalk chalk to cornhole. Goodie bags contained logo-printed beach balls along with other treats. There was a local caricature artist and balloon artist who did incredible work.
"Children could register for a treasure chest filled with classroom supplies. The lucky winner will be able to present his/her new teacher with the treasure.
"Frame and lens packages are always a part of our big day. Parents enjoy the financial benefits of our lens and frame specials. The children enjoy the special attention given to them in selecting their favorite eyewear, and frame vendors enjoy coming and being a part of it.
"From start to finish, it's always a busy time. 'FINtastic week'…it's all about helping children to see."
How do you celebrate back-to-school in your practice? Tell us about it and share in the conversation on Facebook here.