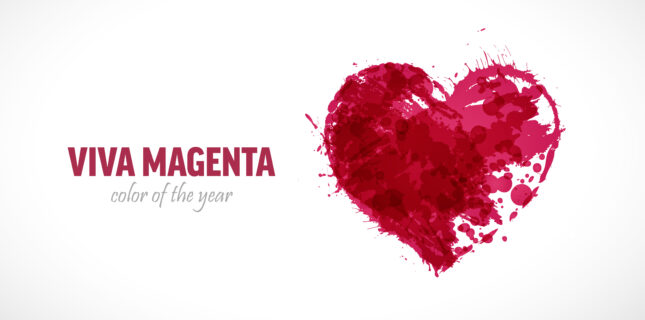 Store Decor Trends
We all make New Year's resolutions. Fewer than 13% are actually acted upon, however.
If you're like many small business owners, your list may well include sprucing up your location.
To show how it can be an easy resolution to keep, here are several "easy peasy" store decor and merchandising tips and related trends for 2023.
How? With a can of paint, a little fabric, and, as the title of a 1960's TV classic suggests, Have [Glue] Gun, Will Travel. To your local Dollar Store or Dollar Tree, that is.
Tip: Whether it's paint, fabric, or product, add a touch of the 2023 Pantone Color of the Year, Viva Magenta, a nuanced crimson red tone. 
Here's some of what's hot and what's not.
COLOR OF THE YEAR
Whether it's paint, fabric, or product, add a touch of the 2023 Pantone Color of the Year, Viva Magenta, a nuanced crimson red tone. How? Pick up the color in throw pillows, a picture frame, display accessories, or, better yet, some magenta-toned eyewear. Those offerings are just coming to market.
LOOK + FEEL
Say sayonara to heavy-handed rustic or romance. "The market is finally veering away from more romantic styles like 'cottagecore' and even the myriad variants of farmhouse," Tom Mirabile, founder of trend forecasting agency Springboard Futures, tells Architectural Digest.
CURB THE CLINICAL
"The all-white decor is falling flat," says Lindsey Smecker, principal at ESP Trendlab. "It's important to add contrast, warmth, and dimension to white spaces so as not to feel clinical."
1Textured tiles…think Southern Spain and Morocco. Adding just one can make a display pop.
TEXTURED TONES
Golden, flaxen hues are de rigueur at high-end retail for 2023. Consider purchasing a roll of wallpaper and applying it as a new neutral backdrop on display units.
LIGHTING SHAPE
Yes, shape. According to livingetc.com, "This new lighting trend is all about stripping out color completely, emphasizing shape instead." That also means a renewed focus on cool colors when it comes to lighting.
TEXTURED TILES
Think Southern Spain and Morocco. Fear not. You don't need to tile a wall or even frame a doorway. Just add one to make a display pop or a several to make a stronger statement.
WINDOWS + WALLS
Curtains are quite the thing. But not the boring ones you grew up with. For 2023, they beg for trims and twists. Where do they go? Everywhere! As interior designer Chloe Jonason says, "Curtains on everything—doors, windows, cupboards, walls, and ceilings! More is more."
What plans do you have for freshening the face of your interior space? Tell us about it and share in the conversation on Facebook here.
Comments are closed.