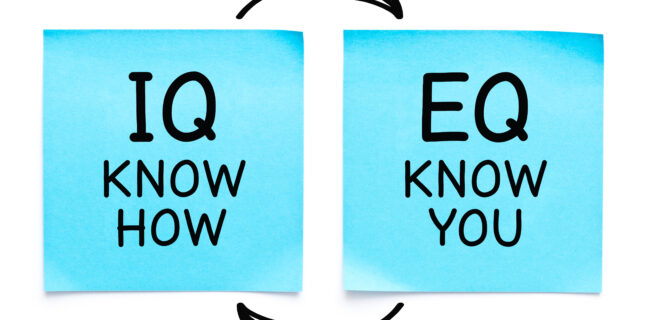 EQ Over IQ?
Say, what? We all know about IQ, but what's EQ? It's emotional intelligence or, more specifically, emotional quotient.
What exactly is it? Travis Bradberry, Ph.D., president and co-founder of TalentSmart, explains. "It's the other kind of smart. Emotional intelligence (EQ) is your ability to recognize and understand emotions in yourself and others," says Bradberry, whose company provides emotional intelligence tests and training to Fortune 500 companies. "It's your ability to use this awareness to manage your behavior and relationships."
Tip: The best bosses are those who build trust through actions more than words.
Co-author of the No. 1 best-selling business book Emotional Intelligence 2.0, Bradberry says, "Research points to EQ as the critical factor that sets star performers apart from the rest." How important is it? He has determined that EQ is responsible for more than half (58%) of job performance.
Three Recommendations
What can you do to increase your EQ in order to better connect with patients and co-workers in the office?
• GO BEYOND IQ. Unlike IQ, which is fixed, EQ can be developed. That's critical since it affects how behavior, workplace situations, and business decisions are managed. It also involves both personal and social skills. The difference between them? Personal competence is your ability to stay aware of your emotions and manage your behavior and tendencies. Social competence is your ability to understand other people's moods, behavior, and motives in order to improve relationships. Both can be developed to put you in better touch with others as well as yourself.
58%
of job performance is based on your emotional quotient as opposed to your IQ.
• IT'S ACTIONS, NOT WORDS. The best bosses are those who build trust through actions more than words. While an average boss tries to hire like-minded individuals, exceptional bosses look for a range of employees and ideas.
That exceptional boss also wants top employees to maximize their potential and, to help develop it, the best managers realize that good feedback and guidance are critical. They also understand that growth often occurs informally around the office. In fact, Bradberry says that 80% of growth occurs in unofficial settings, often through casual conversation.
• KEEP YOUR COOL. TalentSmart has determined that 9 out of 10 top performers are unusually skilled at managing their emotions in stressful situations. This ability has a direct correlation to higher levels of on-the-job performance.
How much do you take the emotional intelligence of employees in your practice into consideration? Tell us about it and share in the conversation on Facebook here.
Comments are closed.