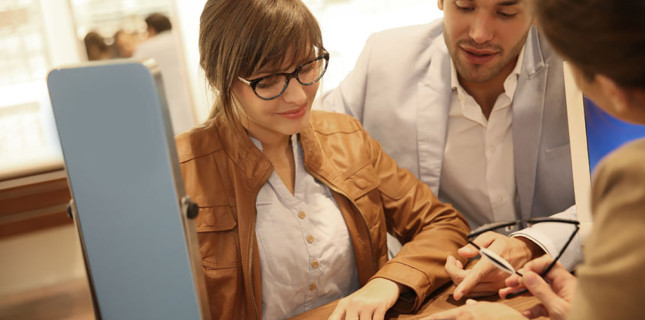 3 Scripts to Help Move Patients to Freeform Single-Vision Lenses
Why should you recommend freeform single-vision lenses versus conventional single-vision lenses to your patients?
In addition to a host of tangible benefits, eyecare professionals say that freeform lenses are the wave of the future. An impressive 75% of ECPs say they expect to see freeform lens sales increasing over the next two years, according to the Eyecare Business 2014 Market Trends Study.
Tip: Tell patients how freeform lenses are made—with high-tech equipment that delivers precision processing—to offer customized, sharp vision.
75% An impressive 75% of ECPs say they expect to see freeform lens sales increasing over the next two years.
While freeform lenses can be a slightly more expensive option than conventional lenses, they are a vision-enhancing, high-tech option that will leave patients pleased with their visual experience and eyewear purchase.
Your knowledge about freeform lenses will also show patients that your business is on the cutting edge of technology and quality. But, how can you most effectively explain the benefits of free-form lenses to patients?
Here, we reveal three distinct reasons to move patients into a digital single-vision lens versus a conventional lens—along with three usable scripts for sharing the freeform benefits with patients in the dispensary.
Script 1: Precision
"Freeform lenses are made with computer-controlled equipment that is much more precise than traditional equipment. This means your prescription will be incredibly accurate and you'll have better clarity."
Script 2: Customization
"Freeform lenses are made considering exactly how the lenses will be positioned in front of your eyes in the frames you choose. This customization offers you the most accurate lenses for your prescription."
Script 3: Sharper Vision
"Because of their precision and options for customization, freeform lenses eliminate visual imperfections that can occur with conventional lenses. That means they offer the sharpest vision."
Looking for a high-tech, high-quality freeform single vision lens product? Learn more about Shamir's Autograph III®, Autograph II®, and Spectrum™ single-vision digital lenses.
Do you believe in the power of digital single-vision lenses?
Please tell us how you present them to patients and join the conversation on this emerging topic on our Facebook page here.