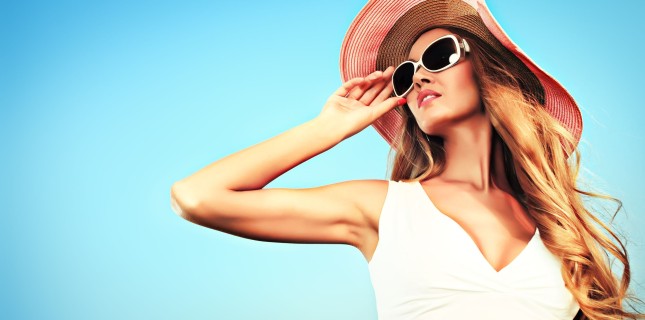 Style 101: The 4 Hottest Summer Eyewear Trends
Do you have the most enticing styles of the season in your frame and sunglass lineup? Learn which four trends will most appeal to your patients in this roundup of the best of the season, from dramatic, statement eyewear to minimalist, clean silhouettes.
Clean Cut
Monochromatic minimalism is a key look this season and men's and women's eyewear follows a more simplistic approach. The color range is also minimal—gunmetal, black and pure white, with pops of steely blue and gray.
At the same time, highly modern accents are in vogue, including aqua lenses, translucent effects, and laser cutouts. There is more freedom in frame silhouettes here, from small rectangles to sleek cat-eyes and angular squares.
Tip: Pull together an enticing, front-of-store table display highlighting each key trend for the season with representative frames.
Laissez-Faire
Fearlessness and independence married with spontaneity are the inspiration for the season's boldest frames. The lineup of statement eyewear boasts eclectic shapes, colors, and details. Over-the-top silhouettes, from futuristic shields and athletic wraparounds to novelty shapes, raise the bar.
Jeweled temples, textured patterns and vibrant colored lenses plus decidedly summery hues add even more drama—creamy sherberts, fiery reds, electric blues, and citrus hues.
Purely Organic
Eyewear for the season is seen through an earthy lens with this trend, which includes styles that mimick natural materials and textures, including wood and leather. Understated elegance is the name of the game, which also appeals to the eco-conscious.
Meditative colorations, including apricot, toasted almond, marble gray, and soft pink, provide a soothong backdrop for mod acents like floral patterns, metal decor, and denim detailing.
Retrograde
Runway fashion is intent on giving a nod to celebrated classics, especially when it comes to eyewear. The key vintage eras? The '50s, '60s, and '70s are the focus—they channel retro-chic aviators, rounds, cat-eyes and Clubmaster-inspired profiles.
The refined color palette includes mottled tortoise, red-wine marsala, buttery neutrals, and mineral blues. Understated details, including mixed materials, inlay accents, ombré finishes, and decorative bridges reveal an old-is-new style mentality.
Information culled from the Eyecessorize Spring/Summer 2015 Eyewear Trends Report.