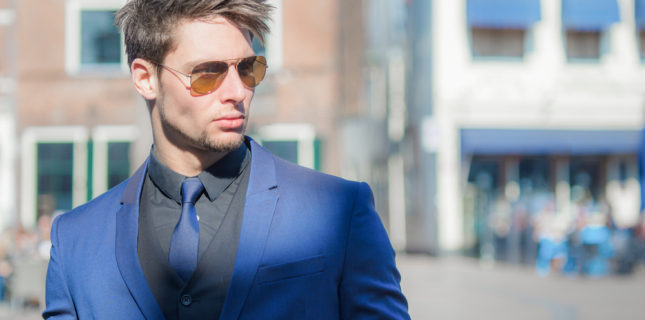 What's Stylin' for Men?
It's still winter, but the fashion world is already looking a couple of seasons ahead. To help you with selecting product, pinpointing trends, and communicating what's hot for men, here we look at spring and summer trends from a variety of resources.
Tip: Colorful lenses and lively frames are a great match to other hot men's trends—shirts, jackets, even baseball caps printed with retro images.
$85According to Ogilvy, men spend $85 a month on accessories and clothing. That's $10 more than their female counterparts
-VINTAGE. According to eyecessorize.com, vintage is hot for men. So are earthy tones like pewter, pea green, navy tones, muddled whites, and amber. In terms of what vintage looks are popular for men this spring and beyond, eyecessorize says popular looks include "quintessential rounds in both totally wire and chunky acetate constructions…played up with tinted lenses, ombre looks, unexpected materials, and bridges and browlines reminiscent of yesteryear."
-BOLD. Look for a bit of eccentricity and anything-goes thinking, as seen for men in super bold color blocking, far-out lens colors, especially in gradients, and lots of stand-out styling—from studs and cutouts to hybrid shapes, double-bridge frames, and flat, zero-based lenses.
-SLICKERS AND CHECKERBOARDS. Vogue points to some fun trends. One is yellow for men, seen as part of this spring's propensity for color blocking, as well as in outer wear reminiscent of the slider you wore as a kid. Vogue also points to black-and-white checkerboards—a combination that is played up in some super black-and-white eyewear as well.
-STREET STYLES. Just as eyewear has a flair for throw-back looks, so street fashions do the same, with a '70s revival as seen in rusty brown and rich Bordeaux color palettes, white button-down shirts, and casual, loose-fitting shirts and pants. Trendspotter.net also suggests large, dark sunglasses as the perfect complement to those casual looks, and Vogue points to sunwear as the perfect pairing with vintage linen looks.
-NOSTALGIA. What else? Colorful lenses and lively frames are a great match to another hot menswear trend—shirts, jackets, even baseball caps in fabrics printed with childhood-friendly images like astronauts, surfboards, and cute animals. And, speaking of retro, powder-blue denim is all the rage, as well.
-PATTERNS. Even business wear, reports Business Insider, will incorporate more colors and patterns than in previous seasons. Whether your customers are into the newly embraced look of plaid suits, the "athleisure" look, or spring and summer's black-and-white profiles, it's a great season for some statement-making eyewear looks.
-CASUAL. In terms of designers, Vogue points to what it calls a "style divide" with fresh, new designers sending very different messages than the many better-known names. The result is a real mix or as Vogue calls it, "a mash-up," and features an interesting mélange of an outdoor, high-tech utility wardrobe, '90s oversize shoulders, and lots of red and blue (especially in the now omnipresent baseball cap).
-SPENDING. So, that's a look at some of the trends, but what about spending? According to Ogilvy, men spend $85 a month on accessories and clothing. That's $10 more than their female counterparts. And, while they're twice as likely to shop online as women, boutique@ogilvy suggests retail businesses that speak to today's male consumer through the right mix of inventory and customized services will win the male buyer as we move into the future.
Make a few adjustments to the way you meet the needs of the men in your patient base, and you'll share in the 2017 growth of the menswear market. According to BISNOW, that market has been growing at nearly twice the rate as womenswear.
How's that for a growth opportunity? What trends do you see in your practice? Do you find men are stepping it up…and out..of traditionally conservative looks? Tell us what you've seen and join in the Facebook conversation here.