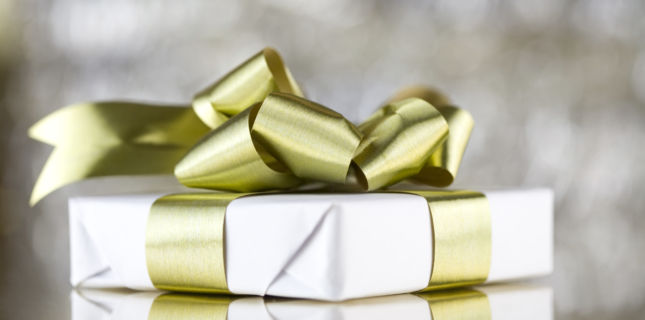 Great Gift Ideas
Hallmark has been setting out holiday tchotchkes in July since 1973.  That might not play in optical, but positioning eyewear as gifts in November and December certainly does.
Tip: Create eyewear gift baskets that include cleaning solutions and cloths, repair kits, cases, and eyewear retainers.
5%the expected increase in holiday spending over 2017
RISING REVENUES
According to the National Retail Federation, year-to-year holiday sales rose 4.1% last year, and Deloitte is forecasting a 5- to 5.6% increase this year. So, how can you get your share of that year-end push? By positioning eyewear and accessories as gifts. By having special holiday sales. And by promoting, promoting, promoting in-store and on social media.
TEN TIPS
Here are 10 ways you can position eyewear and other optical goodies as holiday gifts.
Box it up or wrap it up. Make cases easy to wrap by keeping them in boxes. If chains or cases are all in the same style and color, simply show a sample and gift wrap the rest to make a convenient gift buy.
Place in high-traffic areas. Display boxed or wrapped accessories prominently so they can be easily picked up and purchased. Show off local talent and include small items created by local artisans as well.
Deck the halls. Draw in busy holiday buyers with holiday-themed display windows. Use Christmas trees, menorahs, baskets and more. And, be sure to include things like bejeweled eyeglass chains and other festive eyewear and accessories.
Offer eyecare gift baskets. Create eyewear gift baskets that contain cleaning solutions and cloths, repair kits, cases, and retainers.
Create gift certificates. Some shoppers want to give family and friends the opportunity to pick eyewear themselves. To accommodate, buy some cool cases and put a gift certificate inside each one.
Impulse buys. Pre-wrap chains, pins, etc., and put them next to the register. Promote them as perfect for everything from stocking stuffers to hostess gifts.
Kid cute. From stuffed animal eyeglass holders to sunnies for babies, everyone is always looking for one more kid-pleasing present.
Valet service. An eye valet, that is. Sell well-built boxes that are designed to store multiple pairs of glasses.
Kool kits. Stock up on holiday kits, often featuring a bag, cleaning cloth, and a bottle of cleaner. Another option? Offer a decorative, one-ounce bottle of cleaner…and to keep them coming back, offer free refills with those bottles only.
For her…and him. Make it super easy and have a tabletop display FOR HER and another FOR HIM. Talk to your vendors about any gift-with-purchase promotions or the availability of complementary items from top brands.
Ten ideas, and that's a wrap. Literally. Speaking of which, be sure to keep gift bags, tissue paper, and bows on hand for the holidays. When considering colors, silver is probably the smartest color for all your customers.
What do you offer in your location as holiday gifts? Do you find one item that sells the best? If so, tell us about it and share in the conversation on Facebook here.