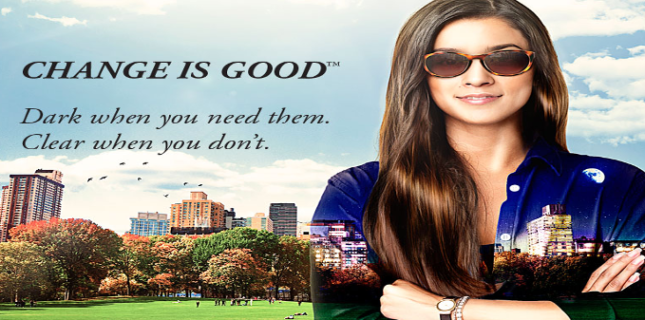 Change is Good
Clear when it matters. Dark when it counts. That's what Shamir's SunSync Light Reactive Lenses are all about.
You see it all the time. Patients want options when it comes to their lenses. So, if you're only offering one brand of light-reactive lenses, SunSync lenses will provide you with that all-important alternative.
The lenses quickly darken in sunlight and return to clear outdoors. They combine comfort, clarity, convenience, and confidence…all in one stylish package.
Tip: SunSync Elite XT lenses retain color in the car, even if the windshield blocks UV
100%SunSync lenses provide total UV protection.
The Options
The SynSync product portfolio actually includes two ultra-fast options to accommodate all patients' needs.
• SUNSYNC ELITE. Changing from dark to clear in seconds, these lenses offer groundbreaking fade-back speed.
• SUNSYNC ELITE XT. It's the perfect choice for patients who prefer the darker side of light-reactive lenses but don't want to linger in it. SunSync Elite XT responds to both UV and visible light. That means the lenses retain color in the car, even if the windshield blocks the UV light.
Patient Benefits
There are a multitude of pluses for practices offering the SunSync lenses and for patients purchasing them.
For SunSync Elite lenses, they include:
• Groundbreaking fade-back speed
• Ultra-fast activation
• Long performance lifespan
• Excellent clarity and darkness
• 100% UV protection
• Exceptional blue-light filtration
• Outstanding durability
•Two colors…gray and brown
• One-year satisfaction guarantee
For patients selecting the SunSync Elite XT lenses, additional benefits include:
• Extra-dark outdoor color
• In-car color retention
Have you tried SunSync Light Reactive Lenses yet? If so, share your own experience with these lenses on Facebook here.