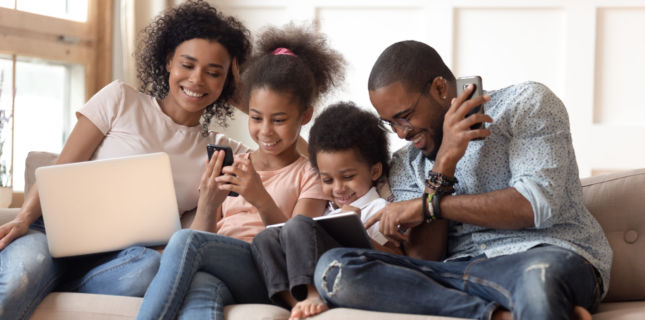 COVID and Increased Screen Time
With COVID again beginning to force more closures, now is an important time to review how online learning and heavy device or computer usage can impact vision. It's also a good time to address this important subject through your practice's social media and even in-office signage. Key among the messages is telling parents what signs to look for in both their children and themselves, plus when it's time to schedule a complete eye exam with you.
Tip: Close down computers and devices between 1-2 hours before bedtime.
11-14Many kids this age spend some five hours a day on computers and tablets.
The good news is that more consumers are understanding that increased time online often results in eye strain. The bad news, especially for kids? No school = no vision screenings. And, while screenings are absolutely no replacement for a comprehensive eye exam, they were better than nothing at detecting potential problems.
Pre-COVID was Bad Enough
Too much screen time isn't exactly new, however. A 2019 study in the UK (conducted by the Royal College of Paediatrics and Child Health) found excessive time online was the norm. In fact, the research found that, among the 11-14-year-olds surveyed, most spent a whopping five hours a day on laptops, tablets, and computers; three hours on their phones; and two hours watching television.
Now It's Even Worse
No school also means less regular, organized outdoor time for many kids. With weather conditions changing, and no formalized outdoor or sports programs in the world of COVID, many kids aren't getting exercise…and that affects overall as well as visual health.
The same holds true for many adults who now work remotely. Though you, as an eyecare professional, can't impact much of this behavior, you can certainly make recommendations to alleviate related problems. Those might include:
• Close down computers and devices between 1-2 hours before bedtime.
• Reduce exposure through screen filters, screen placement, and, of course lens and coating options.
• Pay attention to distances from the screen. A commonly accepted rule of thumb is 1, 2, 10…meaning keep phone screens at a distance of 1', 2' for laptops, and 10' for TVs.
• Take breaks. There's the familiar 20/20/20 rule. After 20 minutes on the computer, gaze 20' ahead for no less than 20 seconds. This is important for kids, too, as they are not as likely to associate discomfort with computer/tablet/device usage. And, they're definitely less likely to complain about it.
Potential Product
Shamir offers a number of products that can help with visual problems encountered as a result of computer and device usage. Its new family of Freeform® occupational lenses is a benefit to ECPs and patients alike. It offers the perfect customized solution whether the patient needs to concentrate on close work at the computer while keeping near surroundings precisely in focus or works at the computer while also focusing on mid-distance workspace. Now with two options, Shamir Computer™ and Shamir WorkSpace™, it's easier than ever to prescribe the perfect patient solution.
Another option, Shamir Blue Zero™, is a lens treatment providing protection from the potential harm of natural and artificial light sources from TV and computer screens, smartphones, tablets, and more.
How do you discuss computer and device usage with patients, young and old? Tell us about it and share in the conversation on Facebook here.
Comments are closed.