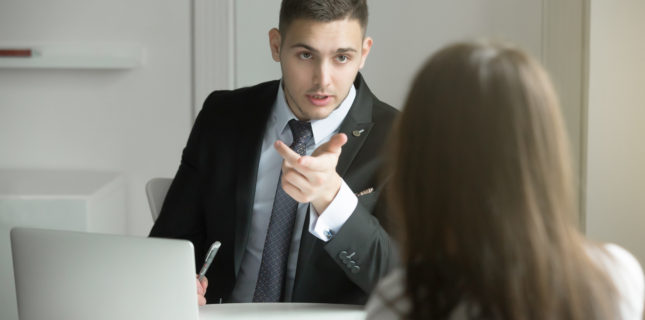 Why You Need a Policy on Harassment
You may be a small business. Maybe even with just one or two employees. No matter your size, you need to clarify, circulate, and post principal personnel policies. And an anti-harassment one is key among them. Your policies need to be reviewed, and sometimes added to, annually. While harassment, for example, may not have seemed such a big issue several years ago, it's critical to communicate your company's policy on that now, including sexual harassment. As addressed at smallbusiness.chron.com, "The friendly nature of relationships between small-business employees makes it that much more important to have a harassment—and sexual harassment—policy that defines acceptable vs. unacceptable workplace behavior."
Tip: Harassment policy signage can help protect you in the unfortunate case that a lawsuit is brought against the business
$2,000…the minimum yearly cost per employee in lost productivity when employees are unhappy at work
THE POLICY
While it's imperative to communicate your policies in every way possible, coming up with what to say can be challenging. If you're looking for a standardized message, check out websites like HRdirect.com that sell compliance posters, including an anti-harassment workplace one. Signage also can help protect you in the unfortunate case that a lawsuit is brought against the business. If you're looking for guidance on wording of policies, there are a number of websites that can help. Check out HR.BLR.com or find free HR forms at sites like hr.com and Society for Human Resource Management (shrm.org). There's even a printable employee manual at formswift.com.
THE WORDING
If you haven't set a policy before, start by checking your own state and local government's requirements. The small business experts at Entrepreneur.com define what should be included in a harassment policy:
a definition of harassment
a harassment prohibition statement
a description of your complaint procedure
a description of your company's disciplinary measures
a statement re. protection against any retaliation
THE INTENT
According to Entrepreneur's encyclopedia of harassment policy, "Along with gender, race, color, religious beliefs, national origin, age, and disability, some jurisdictions do [and you should] protect employees who are discriminated against on the basis of appearance or sexual orientation. Take note of federal, state, and local laws regarding discrimination, and make sure their intent is clearly reflected."
THE COST
How much can it cost you if you chose to do nothing? According to Kendra Prospero in CO Business Magazine, "The cost to a business is tangible. Harassed employees lead to disengagement and can cost a minimum of $2,000 per year per employee in lost productivity including absenteeism, illness, and other problems that result when employees are unhappy at work. This doesn't even include the cost of lawsuits! Sexual harassment and harassment claims are some of the highest paid employment claims. On average, claims range from $53,000-$125,000."
How do you protect your business, and communicate policy to staff? Tell us and share in the conversation on Facebook here.
Comments are closed.